LG announces its first LTE powered tablet - LG Optimus Pad LTE, doesn't plan a U.S. release
9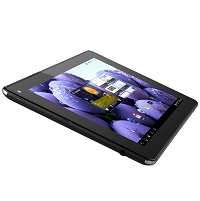 UPDATE:
We reached out to LG to see if we could get some more details regarding exactly where and when its latest tablet is to come out, and the company was kind enough to respond. The good news is that the Optimus Pad LTE will launch
as soon as next week
; however, the bad news is that it stays
Korea-exclusive for now
, as LG currently has no plans to release it on other markets. Still, they did mention that they'll be keeping an eye on how Korean customers receive the device, and who knows, if it turns out to be a big success, the manufacturer might as well change its mind!
LG Optimus Pad LTE
. Like the LG Optimus LTE smartphone, the tablet has 4G LTE connectivity and True HD IPS display. The LG Optimus Pad LTE will launch first in Korea equipped with that 8.9 inch HD display and resolution of 1280 x 720. On back is an 8MP camera for shooting high definition video while a 2MP camera up front takes self portraits and lets you video chat. Under the hood is a dual-core 1.5GHz Qualcomm processor with Android 3.2 installed. The Optimus Pad LTE is also the world's first tablet to support an microSD memory card expandable to 32GB.
Dr. Jong-seok Park, President and CEO of LG Mobile Communications Company, said that since tablets generate five times the traffic of a smartphone, tablet users need LTE connectivity. He said, "
The combination of LG's LTE technology with the tablet form factor is a clear advantage for consumers who use a tablet as their primary consumption device when on the move
."
LG did not release a specific launch date or pricing information, and there is no word on when or if this device will be making the long flight to the States.
source: LG