LG and Google settle patent disputes over Visual Voicemail
0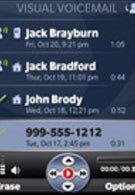 Klausner Technologies, the holder of patents relating to Visual Voicemail, signed agreements with both LG and Google allowing the use of VVM. With LG, the deal allows the use of the technology on certain enabled handsets made by the Korean manufacturer like the recently released LG Versa. By signing the agreement with Klausner, LG removes itself as a defendant in a pending patent infringement case in Texas.
While Google doesn't manufacturer handsets, it is involved with two technologies that required the company to reach an agreement with Klausner. The agreement covers the web based phone systems acquired by Google when they purchased start-up company Grand Central. The deal also covers the Android OS, currently used by the G1 smartphone. Klausner agreed to the deal with Google over the open source software, but would not tell the media whether or not the agreement covers cellphone manufacturers that use the Android OS and want to include Visual Voicemail on their device, and the cellular carriers that have Android phones on their network. For example, last year both Apple and AT&T settled with Klausner over the very same patents after the technology firm sued both for $360 million dollars. Apple had been sued for infringing the patents as the maker of the iPhone while AT&T was sued for infringing the patents as the seller of the touchscreen device.
In related news, T-Mobile signed an agreement with Klausner relating to the European VVM patents in 17 countries. The deal includes the new visual voicemail service unveiled last week by T-Mobile Germany that will be available to all of the carrier's enabled handsets, besides the iPhone.
Visual Voicemail is a service that allows a cellphone user to see the names or phone numbers of those who have left a message in the users voicemailbox. Listed in chronological order, the user can pick which messages he wants to hear in any order he chooses, without having to listen to all of the unwanted messages first. Klausner Technology has held the patent for this technology and holds 24 others. The company was formed by Judah Klausner, inventor of the PDA.
source:
MobileBurn
(LG),
mocoNews.net
(Google) via
EngadgetMobile