LG Vu 3 phablet makes first video hands-on appearance
11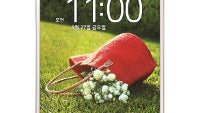 Many of you may consider the odd 4:3aspect ratio display on the Vu 3, LG's latest phablet, a functional(not to mention design) aberration. Regardless, the device is out andit is already making rounds in its home country, so it's only amatter of time until a proper hands-on with the device pops up, andwe probably should stress the handspart. That's plural, because as you can imagine, the device is quiteboxy meaning that one-handed operation is simply out of the question.
Whetherthe LG Vu 3 will go on sale internationally remains to be seen,though we've seen indications that this time around it might. Ofcourse, exactly who LG will be targeting is kind of a mystery, seeingas most people are likely to walk right past the boxy exterior of the Vu 3.Of course, the phablet isn't all bad, not at all actually, especially if youconsider the internals on the device. It's got the most powerfulQualcomm chipset currently in use – the Snapdragon 800 – and alsocomes with 2GB of RAM, a 13MP rear shooter and a dedicated stylus.
So,have a look and let us know whether we're the only ones a littledumbfounded by the Vu 3's purpose.
via:Webtrek