Latest LG V40 leak confirms three cameras on the back, but no battery upgrade
14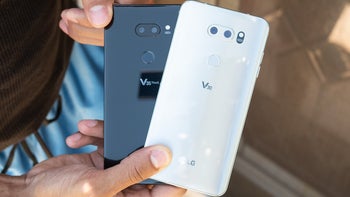 Members of LG's V line are getting replaced rather quickly
The successor to LG's V35 ThinQ is expected to be announced in the
upcoming weeks
and the leaks are becoming more and more rich with information. Now an alleged specs sheet of the V40 ThinQ has surfaced, thanks to AndroidPit. While the main elements of the phone bring no surprise: 6 GB of RAM and a Snapdragon 845, there are some interesting take-outs from the new leak.
Probably the most interesting feature of the new LG flagship is its triple main camera setup. The specs sheet confirms the number of sensors and we gives us some more details about the individual cameras:
12MP (f/1.5) with 1.4µm pixels
16MP (f/1.9) with 1.0µm pixels
12MP (f2.4) with 1.0µm pixels
Besides the three main cameras, the V40 will also have two selfie cameras, one with 8MP sensor and another with a 5MP one. How this menagerie of cameras will perform during regular use is yet to be seen, but at least on paper it looks impressive.
One new detail most users will not be happy to learn is that the battery will have the same capacity as the one on the V35 ThinQ: 3300mAh. While this isn't exactly a small battery, the V40's display will be 6.4-inches, a step up from the 6 of the previous generation. The display will be a P-OLED one with a QHD+ Resolution and will have a notch,
according to previous leaks
. This means that the battery life will take a hit and you'll be able to enjoy the improved display and audio for a shorter time, before having to recharge. Speaking of audio...
As with the recently announced G7 One and G7 Fit, LG is expected to bring enhanced audio experience to the LG V40 ThinQ as well, thanks to the integrated Quad DAC and Stereo Speaker Boombox.
According to the specs sheet, the device will come with two storage options, the usual 64 GB one and a larger 128 GB version. Even if you go for the smaller capacity, the support for Micro SD cards should remain, so you can easily multiply your usable space by adding one.
What remains to be seen is the price tag LG will put on their latest device, but all things considered, we should expect it to be around $900 at launch. The V35 ThinQ launched at $899 but can now be found on Amazon for $699.