LG V40 vs Samsung Galaxy Note 9 vs iPhone XS Max: specs comparison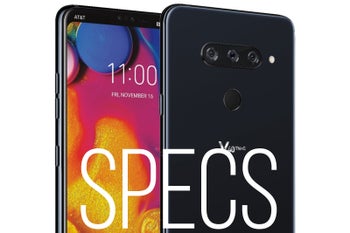 We start October on a high note with the fresh announcement of the LG V40, the company's brand new fall flagship. Aside from building on top of the already strong foundation established by the LG
V30
, V35, and the
G7 ThinQ
, the LG V40 has the tough task of withstanding the overwhelming pressure coming for either Apple's and Samsung's camps, who pulled nearly perfect fall flagships with the
Galaxy Note 9
and
iPhone XS
/XS Max, respectively.
How does the
V40 ThinQ
stack up against those, however?
Rest assured LG has defaulted to only the most powerful internals for its fall flagship (
fallship?
), which directly pits it against the Galaxy Note 9. Of course, the
iPhone XS Max
with its outlandish performance advantage would also be a super tough nut to crack, but the V40 has something that none of the aforementioned devices possess - a triple-camera setup at the back, making up for a rather interesting conversation starter.
Apple iPhone XS Max vs Samsung Galaxy Note9 vs LG V40 ThinQ
Compare phone and tablet specifications of up to three devices. Type a model name in the search field of our phone specs comparison tool or pick a popular device from the ones below.
Display
Technology
OLED
Super AMOLED
P-OLED
Peak brightness
625 cd/m2 (nit)
Features
HDR video support, Pressure-sensitive, Oleophobic coating, Scratch-resistant glass, Ambient light sensor, Proximity sensor
HDR video support, Scratch-resistant glass, Ambient light sensor, Proximity sensor
HDR video support, Scratch-resistant glass, Ambient light sensor, Proximity sensor
Hardware
Apple A12 Bionic APL1W81
Qualcomm Snapdragon 845 SDM845
Qualcomm Snapdragon 845 SDM845
Hexa-core, 2490 MHz, Vortex and Tempest, 64-bit, 7 nm
Octa-core, 2800 MHz, Kryo 385, 64-bit, 10 nm
Octa-core, 2800 MHz, Kryo 385, 64-bit, 10 nm
Apple 4-core GPU
Adreno 630
Adreno 630
Internal storage
64GB, not expandable
128GB
64GB
OS
iOS (13.x, 12.x)
Android (10, 9.0 Pie, 8.1 Oreo), Samsung One UI
Android (9.0 Pie, 8.1 Oreo), LG UX UI
Battery
Charging
USB Power Delivery
Qualcomm Quick Charge 2.0, Samsung Adaptive Fast Charging
Qualcomm Quick Charge 3.0, USB Power Delivery
25.00 hours
the

average

is 17 h (1016 min)
38.00 hours
the

average

is 17 h (1016 min)
22.00 hours
the

average

is 17 h (1016 min)
12.0 days (288 hours)
the

average

is 22 days (539 h)
17.2 days (413 hours)
the

average

is 22 days (539 h)
29.00 hours
the

average

is 21 h (1232 min)
3G: 14 hours; LTE: 16 hours; Wi-Fi: 17 hours
Camera
Rear
Dual camera
Dual camera
Triple camera
Main camera
12 MP (Sapphire crystal lens cover, OIS, PDAF, CMOS image sensor, BSI sensor)
Specifications
Aperture size: F1.8; Focal length: 26 mm; Sensor size: 1/2.55"; Pixel size: 1.4 μm
Aperture size: F1.5/F2.4; Focal length: 26 mm; Sensor size: 1/2.55"; Pixel size: 1.4 μm
Aperture size: F1.5; Focal length: 27 mm; Sensor size: 1/2.6"; Pixel size: 1.4 μm
Second camera
12 MP (Telephoto, Sapphire crystal lens cover, OIS, PDAF, CMOS image sensor, BSI sensor)
12 MP (Telephoto, OIS, Autofocus)
16 MP (Ultra-wide, PDAF, CMOS image sensor, BSI sensor)
Specifications
Optical zoom: 2x; Aperture size: F2.4; Focal Length: 52 mm; Sensor size: 1/3.4"; Pixel size: 1 μm
Optical zoom: 2x; Aperture size: F2.4; Focal Length: 52 mm; Sensor size: 1/3.4"; Pixel size: 1 μm
Aperture size: F1.9; Focal Length: 16 mm; Sensor size: 1/3.09"; Pixel size: 1 μm
Third camera
12 MP (Telephoto, OIS, PDAF)
Specifications
Optical zoom: 2x; Aperture size: F2.4; Focal Length: 52 mm; Sensor size: 1/3.4"; Pixel size: 1 μm
Video recording
3840x2160 (4K UHD) (60 fps), 1920x1080 (Full HD) (240 fps), 1280x720 (HD)
3840x2160 (4K UHD) (60 fps), 1920x1080 (Full HD) (240 fps), 1280x720 (HD) (960 fps)
3840x2160 (4K UHD) (60 fps), 1920x1080 (Full HD) (240 fps)
Features
OIS, Time-lapse video, Continuous autofocus, Picture-taking during video recording, Video calling, Video sharing
Time-lapse video, Hyperlapse, Continuous autofocus, Object tracking, EIS
OIS, HDR, Time-lapse video, EIS, Video calling, Video sharing
Front
7 MP
8 MP
8 MP
Video capture
1920x1080 (Full HD) (60 fps)
2560x1440 (QHD) (30 fps)
1920x1080 (Full HD) (30 fps)
Design
Dimensions
6.20 x 3.05 x 0.30 inches (157.5 x 77.4 x 7.7 mm)
6.37 x 3.01 x 0.35 inches (161.9 x 76.4 x 8.8 mm)
6.25 x 2.98 x 0.3 inches (158.8 x 75.7 x 7.6 mm)
Weight
7.34 oz (208.0 g)
the

average

is 6.2 oz (176 g)
7.09 oz (201.0 g)
the

average

is 6.2 oz (176 g)
5.96 oz (169.0 g)
the

average

is 6.2 oz (176 g)
Materials
Back: Glass; Frame: Stainless steel
Back: Glass (Corning Gorilla Glass 5); Frame: Aluminum
Back: Glass (Corning Gorilla Glass 5); Frame: Aluminum
Resistance
Water, Dust; IP 68
Water, Dust; IP 68
Water, Dust, Shock; IP 68; MIL-STD-810 certified
3D Face unlock
Iris scanner, 2D Face unlock, Fingerprint (touch)
2D Face unlock, Fingerprint (touch)
Features
Notification light, Stylus