LG V20 goes official: Android Nougat, 5.7" with Second Screen, larger battery and focus on sound
33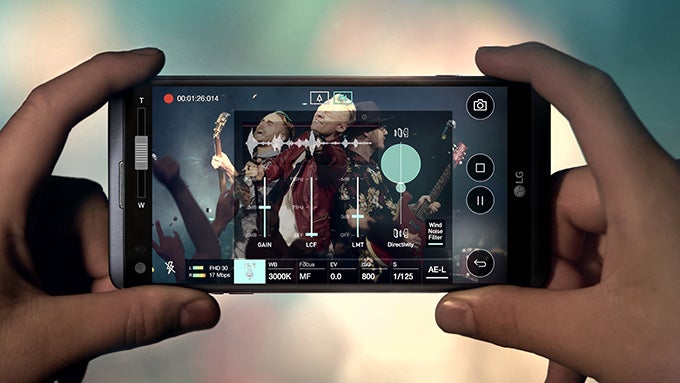 The LG V20 is now official.
The successor to last year's V10 keeps its signature features and improves on a lot of them: there's now a dual-camera system on the back with a secondary wide-angle lens, a brand new video stabilization system, the second screen now features larger and more visible quick-glance information, while the sound quality is enhanced and there's a larger battery on board. Let's waste no time and explore each of these features in more depth.
Design and display
LG does away with the rugged design of the V10, welcome a sleeker, metallic V20
Last year's LG V10 was a device with a rugged feel and a peculiar texture rubber-like back that felt different. Some people liked this, others not so much, but it was definitely out of the ordinary. With the LG V20, the solid feeling of the handset remains, but LG goes back to a more mainstream visual style: the V20 sports a metal back cover, and the phone itself is lighter despite featuring a larger battery. That metal back cover is also easily removable with just a click on a button and hiding behind it is an easily user-removable battery. There are a few other changes from the V10: the volume keys are now on the side, while the lock key with an embedded fingerprint reader remains on the back of the phone.
Up front, there's a 5.7-inch Quad HD (1440 x 2560 pixel) display with a tiny Second Screen on the top that shows you either missed notifications and the time, or your signature that can now be up to 24 digits long. You can customize that screen with more options this time around, and it's more useful, sporting nearly twice as bright letters and a larger font that makes it easier to read what's on it.
Camera improvements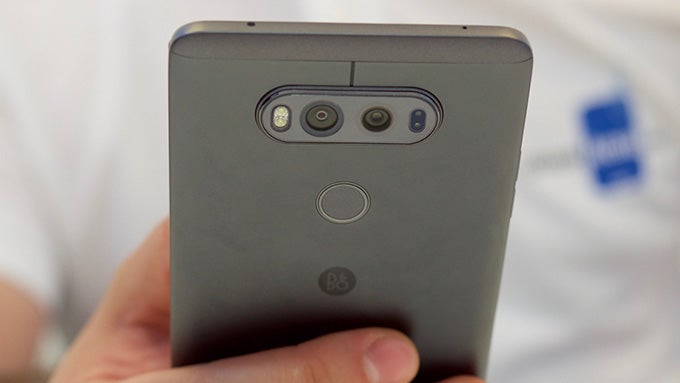 LG's V20 has taken cues from the LG G5 and now features a dual-camera system on its back with a main, 16-megapixel module that features optical image stabilization and a fast, f/1.8 lens, but also a secondary, wide-angle (135-degree) lens based on an 8MP sensor and an f/2.4 lens. You can easily switch between these two rear-facing lenses in the camera interface, and the wide angle provides a very cool and different way to see more of the world around you. It's particularly great for landscapes, but also makes it possible to photograph tiny places that otherwise won't fit in the camera view. Additionally, up front, there is a 5-megapixel camera for selfies and it also features a wide mode that allows you to get a whole group of people in the frame. The wide view from the front camera captures 120-degree view and is 34% brighter than the camera on the V10, while the regular view has an 83-degree view.
Additional tricks include a hybrid auto-focus system with laser AF, phase-detection AF and traditional contrast AF. The V20 also supports tracking focus, so it smartly traces an object once it has locked focus on it.
LG is the first to use the latest video stabilization solution from Qualcomm
LG's V10 broke new grounds with its detailed manual options for recording video, and the LG V20 only expands on that. The V20 adds Steady Record 2.0, a new video stabilization system from Qualcomm that makes its debut on LG's handset. Steady Record 2.0 is a system that relies on a real-time gyro-based electronic image stabilization with double the improvement in latency speeds, but it also uses clever analysis of a stream of image frames from a video to stabilize it. Altogether, this new stabilization solution not only provides more stable footage, but reduces the rolling shutter effect to a minimum.
Focus on sound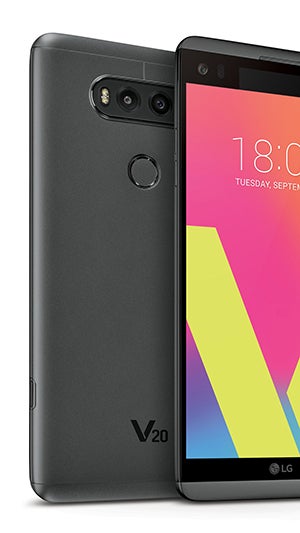 Quad DACs and mics that record loud sound well
LG has been on a steady road of improving the sound quality of its phones, and the LG V20 is the culmination of its sound efforts. The phone features a quad-DAC system (using an ESS Sabre ES9218) for clearer sound. These improvements will make a difference to every user, but should be especially prominent for audiophiles with higher-end headphones, as the system brings total harmonic distortions to a minimum, while increasing dynamic range and optimizing the signal to noise ratio.
Sound recording on the LG V20 also gets some important improvements: the mics on the phone are able to record clear sound even at very loud events like concerts, where the loud music usually overwhelms phone microphones and results in terrible sounding recordings. The V20 is also capable of recording in lossless audio formats at a 24-bit / 48kHz rate. Then, there is the new high quality HD audio recorder on the V20, a musician's sidekick with its possibilities to deliver 24-bit / 192kHz FLACs that LG estimates to be much more accurate than rivals.
In select markets (but not in the United States), LG is partnering with premium audio gear maker Bang & Olufsen to provide fine tuning to the sound, plus the V20 itself will be stamped with a notable B&O logo on its back and equipped with a set of B&O earbuds in the box.
Performance, storage and battery
Under the hood, the LG V20 runs on a Qualcomm Snapdragon 820 system chip that has been a standard on 2016 flagship phones and has proven to be a fast and reliable chip. With the addition of Android 7.0 Nougat on board, LG will also get neat options like native multi-window support and direct replies to messages.
Battery life has been a big concern for a few recent LG phones, including the LG V10, so LG has not only delivered a larger cell, but also uses the battery improvements that come with Android N such as dozing whenever the screen goes off and reduced background activities.
We also welcome the 64GB of storage as a base option on the LG V20 with a warm embrace. 4K video is a monster in terms of data consumption and we tend to store more and more images and videos on our phones, so such a generous storage allocation is welcome. The V20 also supports microSD cards, so you can expand that storage even further.
Price and availability
LG does not say anything yet about price and specific release dates, but judging from past experience with LG phones, the V20 is likely to launch at a price slightly lower than its direct rivals like the upcoming Apple iPhone 7 Plus and Samsung Galaxy Note 7. Chances are that all four major carriers will sport the LG V20 in the United States, but we'll be keeping a close eye on LG for final and official confirmation of price and release dates for the V20.
source: LG