LG V20 battery life test results are out: here's how it compares against Apple's iPhone 7 Plus and Samsung's Galaxy S7 Edge
49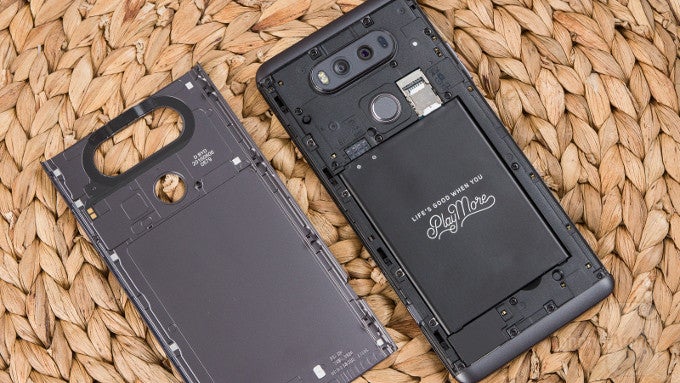 The LG V20 has a removable battery, a rarity among high-end phones these days
If you're looking for a big phone that provides all that you expect in a flagship, plus something more in the form of excellent audio and video capabilities, and a very neat small secondary screen for quick shortcuts, the
LG V20
should probably be on your shortlist.
The 5.7-inch phablet by LG has just recently gone on sale in the United States, and it features a premium metal construction without stepping down from the core values of LG's high-end devices: an easily removable battery and a microSD memory expansion slot.
However, what about the V20 battery life?
This has been a sour point of most high-end LG devices in recent years, and this time around the company says that it has taken into account customers needs and wants, and includes a larger battery in the V20. But larger in this case means larger than the LG V10's 3,000 mAh battery, which scored rather averagely on our test last year.
Average battery life, but very fast to recharge
This year, we have a 3,200 mAh removable battery on the LG V20 and it scored a better result than its V10 predecessor, but its battery life still falls behind competing phablets from Samsung and Apple. In our test that puts all devices on equal grounds by setting their screens at the same 200-nit brightness level, the LG V20 battery life score reached
6 hours and 23 minutes
of screen-on time, while
Samsung's Galaxy S7 Edge
had 7 hours and 18 minutes on the same test, and the
iPhone 7 Plus
aced it with a score of 9 hours and 5 minutes. The LG's score is not bad per se: it's on the same level as the Nexus 6P, but it's not outstanding by any means.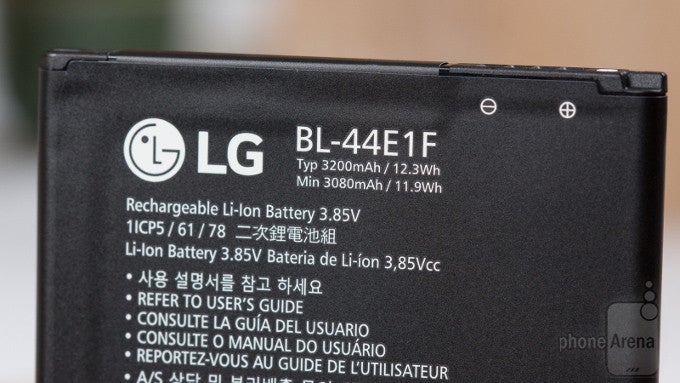 LG's V20 ships with a 3,200 mAh battery
And what about charging times? Apple's iPhone 7 Plus might have excellent battery life, but it takes an eternity to recharge fully: it takes 3 hours and 18 minutes to get it from 0 to 100%. Luckily, the LG V20 does support Fast Charging and it was among the fastest charging phones out there: it took 1 hour and 26 minutes to fully recharge its battery, more than twice as fast as the iPhone 7 Plus. The magic happens thanks to LG V10's built-in 16-watt (9 volt, 1.8-amp) wall charger. It's worth noting that the V20 charges faster in the beginning, while the last few percentage points until the battery is fully recharged take much longer to charge because of the specifics of battery chemistry.