LG Thrill 4G Unboxing
12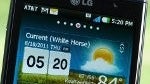 Domestically, the HTC EVO 3D has been getting plenty of face time with customers in spreading the word about the hoopla surrounding 3D capabilities with smartphones, but surely enough, LG's offering is prowling in the cover waiting for the right time to strike. Although it's been available across the big pond over in Europe where it's better known as the
LG Optimus 3D
, US consumers have been waiting patiently to check out the alternative with AT&T's version in the LG Thrill 4G – though, we're still in the dark in regards to an
actual release date
. Nevertheless, we're sure that its
$99.99 on-contract price
will keep potential owners in constant grasp until its arrival.
Even despite being AT&T's very first 3D capable smartphone, the
LG Thrill 4G
retains the typical packaging found with most of the carrier's offerings. Naturally, images of the handset are splattered in the front and back of the box to offer would-be buyers that subtle tease, but besides that, there's nothing else too noteworthy with it. Inside, we're presented with the common set of accessories and documentation – like its microUSB cable and wall charger. However, we're ecstatic to find a
microHDMI cable
included with the retail packaging! That's spectacular in our books seeing that it's not something you'd expect to be packed in, but more importantly, it's just one nice gesture we're glad to see come from AT&T and LG.
As for the actual handset, it's exactly like the LG Optimus 3D in every way and form except for the prominent AT&T branding etched into its rear cover. We've talked about the handset's design extensively before, but it's worth noting that the handset is preloaded with an 8GB microSD card. Another thing worth mentioning about the LG Thrill 4G, besides its obvious 3D display and capture, is the fact that it's an
HSPA+ Category 10
enabled smartphone that's good for up to theoretical download speeds of 14.4 Mbits/s. However, its choice of kicking it back with
Android 2.2 Froyo
might dissuade some people – but still, we're certain that others are going to be more concerned with its 3D prowess. Finally, we notice right off the bat that the 3D display of the handset offers better viewing angles than what we've seen with the HTC EVO 3D.
In the end, is this going to be the smartphone to really get people bonkers about 3D technology with smartphones? We'll be checking it out in the meantime to see how it handles.