LG Spectrum benchmark tests
7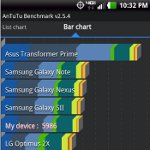 There's no arguing that the
LG Spectrum
has a lot to live up to after Verizon customers have been treated to stellar 4G LTE smartphones like the Motorola DROID RAZR, HTC Rezound, and
Samsung Galaxy Nexus
. In the processing department, it's outfitted with a
1.5GHz dual-core Qualcomm Snapdragon S3 processor
coupled with 1GB of RAM – so you know it's on par to those other devices in terms of raw processing power. However, some of us place a good amount of emphasis on benchmark results, so we're here to see what it's capable of putting out.
As usual, before getting into the nitty-gritty portion of the benchmark tests, we take a look at the handset's performance out of the box. Considering that it's featuring a 720p display and the LG Optimus skin running on top of Android 2.3 Gingerbread, it would normally give us some worries due to the added processing powered required to operate the handset. However, it actually exhibits the same rate of performance as its contemporaries when it comes down to executing basic tasks – like navigating across the homescreen or running apps. Though, we do notice just a hint of
choppiness
while interacting with one the preloaded widgets, but it's nothing detrimental. In all honesty, it seems to offer the same level of performance to devices like the HTC Rezound and Motorola DROID RAZR.
Not surprisingly, the results we're given with the
Quadrant
benchmark test aren't all that alarming, seeing that it's indicative of any other dual-core processor we've seen from Qualcomm's camp. In fact, its scores range within
2,300 to 2,70
0, which aren't mind-blowing per se, but quite fitting for its processor. Meanwhile, the
AnTutu
benchmark test puts up an overall score of
5,986
for the LG Spectrum – again, it's a respectable mark that tangles with other reputable devices like the Samsung Galaxy S II. So what does it all mean for the smartphone? Well, they're actually very normal results we're seeing out of the handset, meaning, we're neither impressed nor disappointed – albeit, we'll be seeing how it'll perform in the next few days during extensive testing to give our final take.