LG Revolution enters its test period, seems to be well on schedule to be released soon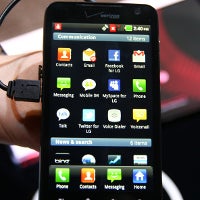 It's claimed that the
LG Revolution
, which is set to be the first Verizon handset to offer Voice over LTE (our demonstration
here
), is in the good, loving hands of some (official) testers, and this may be treated as a massive hint this handset is well on course to be released in Q2 of this year.
Truth be told, we live in a day and age where we can honestly say there is nothing that revolutionary about the LG Revolution's specs - a 4.3-inch screen with a 480 x 800 resolution, single-core 1GHz Snapdragon processor, two cameras and Froyo are not specs that leave the mobile world in awe, and yet they are quite respectable, not to mention that the best thing about this handset seems to be its VoLTE feature, which, unfortunately, won't be available at launch, as it is scheduled to go live sometime in 2012.
While we are patiently waiting for this handset to hit the shelves, you are strongly advised to check our LG Revolution hands-ons
here
and
here
.
source:
Android Central