LG Optimus 3D teased on video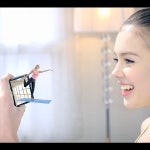 The LG Optimus 3D is one of the mostexciting devices to come out featuring glasses-free 3D and 3Drecording capabilities with dual-cameras, but you might be wonderingabout what exactly 3D is good for. The latest video teaser showingstunningly beautiful Kay stretch with the help of the Optimus 3Dshould be enough to get you rid of those thoughts. And was nearly enought to let us miss what looks like a kick-stand for the LG Optimus 3D - certainly a welcome addition.


But we can think of plenty more applications to the third dimension -instructional videos for yoga, stretching, roller-blading, prettymuch every kind of physical activity you can think of. However, staring at a handset while stretching is hardly everyone's dream, so for thetime being 3D remains a niche segment, but nevertheless it is expected to growrapidly. Check out the video below and let us know your feelingsabout the added dimension!
Thanks, Kevin!
source: LG