LG ramping up OLED display production for Apple despite quality concerns
24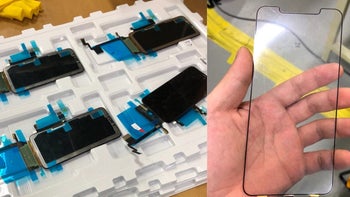 As we all know, Samsung is currently the sole supplier of the
iPhone X
's 5.8" flexible OLED panels, at $70 a pop, and has been hoping to capitalize on Apple's new OLED models coming this year, too. Its A3 plant that makes the screens was forced to cut production with idle capacity to spare for the first time after the iPhone X sales didn't materialize as hoped but has now ramped up production for the 2018 models.
Apple, in its turn, is reportedly looking to diversify its panel supply away from Samsung. There is plenty of info that it may turn to
Japan Display
for a flexible 6.1" LCD panel to be outfitted on a more affordable iPhone in this year's crop, and to LG as an alternative OLED supplier
Apple has reportedly chosen LG to deliver some of the 6.46" OLED displays for the rumored new
iPhone X Plus
model that it is prepping for the fall, and Bloomberg recently
reported 2-4 million units from LG
are in the wings. The main issue is with LG's production capacity, which might be improving, as a separate report now pegs the order from Apple to be for 3-5 million panels already. That's coming straight from an industry exec, who nevertheless didn't have good things to say about LG and its OLED panels at the current point.
Apple is attempting to release new iPhones with enhanced features next year and it is eyeing developing foldable iPhones, which will come several years later... Apple wants to expand the partnership with LG into OLEDs from LCDs. However, the key concern is LG has smaller production capacity for OLEDs used in portable gadgets compared to Samsung Display. The quality of the V30 display isn't as good as Samsung's OLED display in its Galaxy lineup.