LG Intuition unboxing and hands-on
9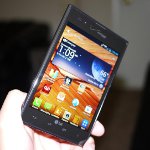 Now that summer has unofficially ended, Verizon is starting to pick up steam when it comes to seeing some quality smartphones. Starting today, customers can go into any of Big Red's retail stores across the country and pick themselves up the obscenely gargantuan smartphone in the
LG Intuition
, which is essentially the
LG Optimus Vu
overseas. For the most part, its specs has been unchanged, but seeing that this is Verizon that we're talking about, it's been outfitted with an
LTE radio
. So with this, the carrier can now lay claim to its very own phablet/tabphone.
Much like all the other high-end Android smartphones we've been seeing with the carrier, the LG Intuition's packaging follows in the same manner – an all-black and minimalistic appearance. On the front, there's a barely subtle Verizon logo, while in the rear, the only thing we're greeted to the listing of what's included inside of the box. Naturally, it comes with a microUSB cable, wall charger, and its usual set of documentation, but in addition to them, we also get the "
Rubberdium
" Pen and a couple of
LG Tag+ NFC stickers
that can instantly set the handset to car and office modes. Needless to say, we can't complain too much about the included goodies since it's the standard fanfare we're exposed to with most
$199.99 on-contract
smartphones.
Right off the bat, there's no arguing the
sheer size
of this monster! Obviously, it's not trying at all to hide its monstrous girth, which makes it one of the widest smartphones we've come across. Aside from its unusual size, there's very little to be said about its design – since it's pretty much on the conventional side. Despite its unwieldy looks, it maintains a somewhat uniform streamlined figure, while its construction is decent at best with its all plastic body. Above all, the size factor of the smartphone seemingly overshadows nearly everything else.
Part of the reason for its obnoxiously large size, is due to the
5-inch 1024 x 768 IPS LCD display
it's packing along, which so happens to employ a
4:3 aspect ratio
. Simply, it has a more boxy appearance compared to the other widescreen displays in use with most smartphones and tablets, but at the same time, it helps in keeping it unique amongst other things. Even though it's a lower resolution display than its closest rival in the Galaxy Note, it's still decent enough to make out fine text. Combined that with its natural color production and high brightness output, it still has a subtle appeal to it.
Considering that this is geared to enable users to jot down notes and draw significantly better thanks to the included Rubberdium Pen, it baffles us as to why there's no slot on the handset to tuck it away. Instead, you'll need to keep a close eye on it so you don't lose it. As for the rest of the hardware, it features a dual-core 1.5GHz Qualcomm Snapdragon S3 processor, 1GB of RAM, 32GB of storage, 4G LTE connectivity, NFC, 2,080 mAh battery, Bluetooth 3.0, 802.11 b/g/n Wi-Fi, 8-megapixel rear camera with LED flash, and a front-facing 1.3-megapixel snapper.
In terms of software, it's running LG's customized experience on top of
Android 4.0.4 Ice Cream Sandwich
, but seeing that the screen has a 4:3 aspect ratio, many of the apps have been optimized to accommodate the unusual size. Additionally, its Notebook app is there ready to give us a quick and easy way of writing things down or drawing. Naturally, we're curious to see how everything holds up in the end with this one, so expect our in-depth review soon!