LG G7 vs OnePlus 6 poll: and the winner is...
50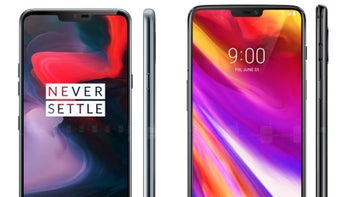 Both the
OnePlus 6
and
LG G7 ThinQ
are two top-tier smartphones that are about to be released in the following weeks. Both have been announced and we know what they have to offer.
While they look pretty similar (did you notice that the wallpapers in the header image have been swapped?), they do have some minor differences... and one major one — the price. The OnePlus 6
starts at $530
, while the G7 is
expected to cost around $700
at launch.
As far as under-the-hood diversities? The G7 has a wide-angle secondary lens, while the OnePlus' assistive camera is there to help with night shots. The G7 comes with 4 GB of RAM and 64 GB of storage, while the OnePlus 6 slams us with 128 GB – 256 GB of storage and 6 GB – 8 GB of RAM.
So, yeah, we were wondering — which one would you go for? The value-for-money underdog OnePlus 6 or the well-known brand's latest flagship — the LG G7. Well... here are the results!