LG G6 vs LG V20: Can you teach an old dog new tricks?
9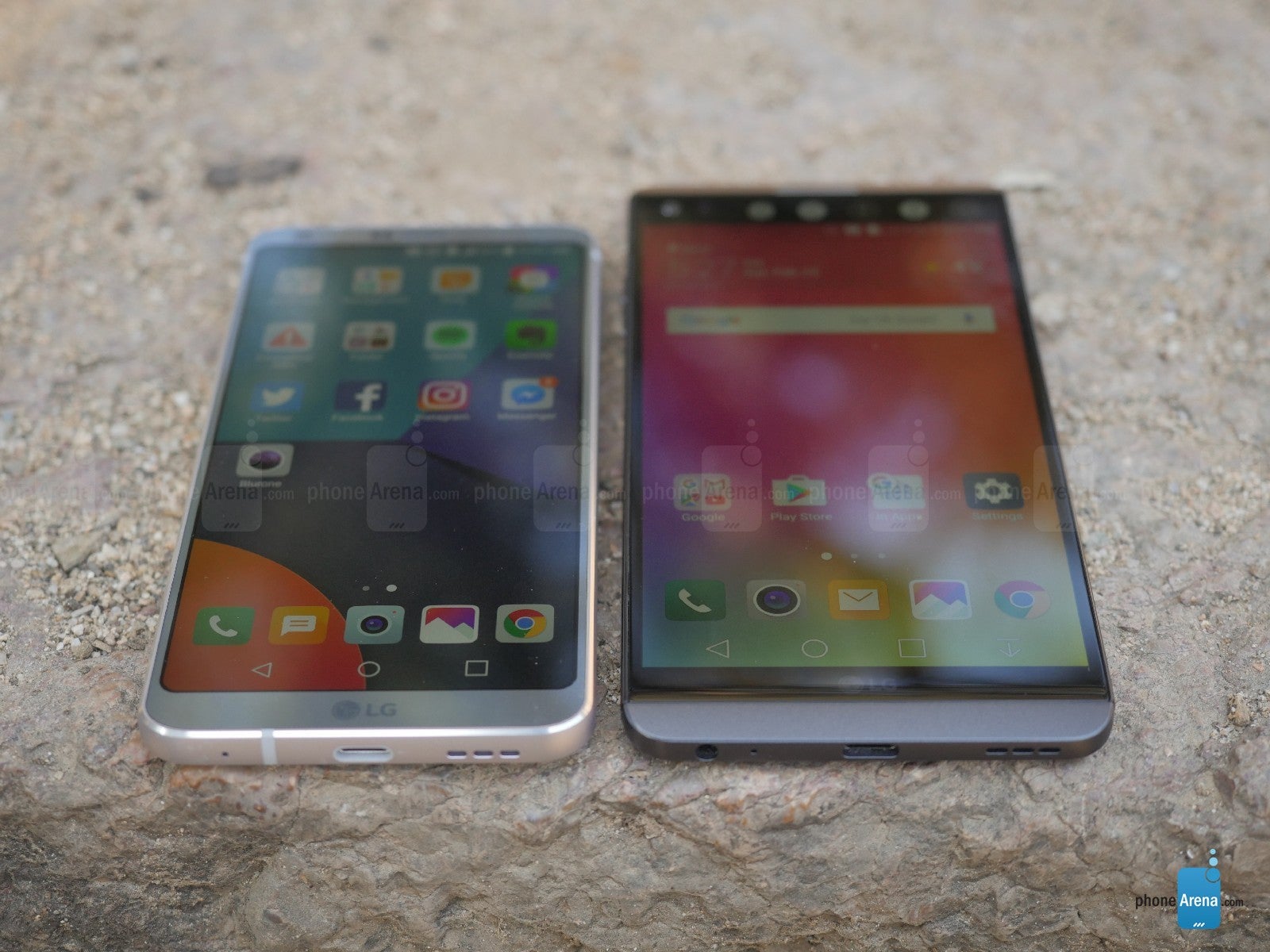 Despite the rocky start of the year for LG because of the mostly lackluster G5, it finished 2016 on a high note thanks to the excellent LG V20. It was a big, manly phone, with two screens, three cameras, hi-fi audio, and all the bells and whistles you can expect from a high-end phablet. We hate to use that portmanteau word, but it just rolls off the tongue when you talk about the V20. And then there's the all-new G6, a device that is a meaningful evolution of the G5, putting forth features that are important for end-users. But are all the novelties enough to make the G6 the new top dog in LG's camp? There's only one way to provide an answer to that question - with a 1v1 hands-on comparison.
Design & Display
Although they both share the same LG DNA, the V20 and the G6 are both similar and different. See, we get LG's design approach present on both phones, but once you hold the bezel-busting G6 in your hand, you will quickly realize how fresh and reinvigorating this one feels, especially in comparison with the way, way larger V20. Despite the fact that both devices carry screens with the same 5.7-inch size, one of those two LG devices is perfectly usable with a single hand. Spoiler alert: it's NOT the V20. The V20 is wider and taller, which makes one-hand usage an arduous task. The glass back of the G6 helps it stick to your skin, whereas the V20's metal back is quite slippery.
In terms of design, the G6 relies on metal for the frame and Gorilla Glass 5 for the back, whereas the V20 is mostly metal-made, with just two tiny strips of strong polycarbonate present at the rear. The latter is rugged and compliant with the MIL-STD-810G standard, which means that it can is more resistant to abuse than your regular smartphone. However, it's not water- or dust-resistant, but the new LG G6 is. The new phone is IP68-certified, meaning that you can dunk it in up to 1.5m of water for about 30 minutes. Sadly, you can't do that with the V20.
In terms of unique quirks, the G6 and the V20 both have a few. While both sport dual rear camera setups, the majority of unique features lie in the display department. The odd thing about the G6's one is that it uses a display with an 18:9 aspect ratio. Dubbed FullVision, this display is perfectly fit for watching the increasing amount of Netflix shows and movies that are shot in 2:1 aspect ratio. Additionally, to complement that experience, the G6 supports both the HDR10 and DolbyVision standards for a more immersive multimedia experience.
In the other camp, we have V20's secondary ticker display, which functions as an app shortcut and a widget that lets you access select apps or even your media controls from within any app.
As far as technicalities come and go, both phones have 5.7-inch displays, but the G6's one has a resolution of 1,440 by 2,880 pixels, whereas the V20 sports a 1,440 by 2,560-pixel display. Rest assure that both phones are bright enough to use in direct sunlight, though the G6 seems to be slightly brighter at maximum brightness.
Performance and hardware
The V20 and the G6 share some rather similar hardware insides. The larger V20 has a Snapdragon 820 chipset, whereas the newer G6 comes along with a Snapdragon 821. As you're likely aware, there's marginal difference between the overall performance of these two quad-core chipsets. The Snapdragon 820 is clocked at 2.15GHz, while the Snapdragon 821 can go up to 2.4GHz if it's necessary. However, any discrepancy in performance should only be visible in synthetic benchmarks. You are unlikely to notice any performance difference in real-life situations.
You will find 4GB of RAM in both phones, which should be more than enough for most users. True, a few devices offer 6GB of RAM already, but we see nothing wrong with having 2 less. The V20 offered excellent multi-tasking capabilities, and from our initial impressions, the G6 performs just as good.
As far as native storage goes, there's 32GB of storage in either device. We imagine that this would be enough for most users out there. Thanks to the on-board microSD card slot, users can expand the total amount of storage on their devices with a compatible microSD card.
Believe it or not, the smaller G6 boasts a larger battery than the V20 - 3,300mAh vs 3,200mAh. The difference is small, but theoretically, the G6 should have better battery life thanks to the larger battery capacity and the newer chipset. Both devices will charge up pretty fast thanks to Qualcomm's Quick Charge 3.0. The US version of the G6 also comes with wireless charging, whereas the V20 doesn't in any version.
One last thing that we should mention is that while the V20 comes with a quad Hi-Fi DAC, only the Korean version of the G6 has one. That's too bad for folks who love treating their ears to high-quality tunes - they'd be better off with the LG V20. Weird move, LG.
Camera
Both the G6 and the V20 come with similar camera setups. There's a regular and a wide-angle camera on both phones, but most similarities end here. While the V20 came with a 16MP regular and an 8MP wide-angle snapper, the G6 uses one and the same 13MP Sony IMX258 sensor for both cameras.
We would abstain ourselves from spoiling our upcoming camera comparison, where we would compare the cameras of the two devices at large.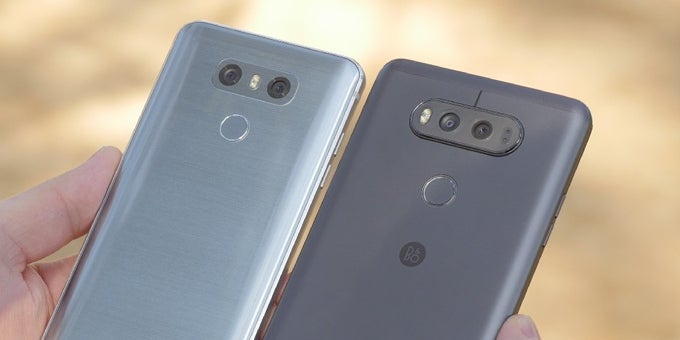 Expectations
The G6 is a no non-sense smartphone that might not have enough hardware or design oomph, but is trying hard to offer meaningful upgrades in areas that matter. Bigger battery than any G phone? Check. Fast and wireless charging? Check. Big screen in a compact body? Hell yes! LG explicitly said that it will be focusing on reliability and stability, and we feel that users who value these two would have a high opinion of LG's all-screen flagship.
Is it worth upgrading from the V20? If you have no problems with that one's size, then no, we don't think the G6 has any new feature that will compel you to upgrade. If you're tepid at your V20, however, then the G6 might turn out to be a good, freesh surprise.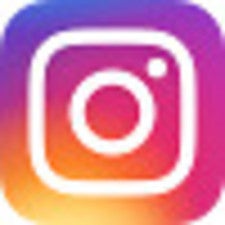 PhoneArena is on Instagram. Follow us to stay updated with fresh news and flashy media from the world of mobile!