LG G6 may sport an all-in-one iris scanner plus front-facing camera combo
5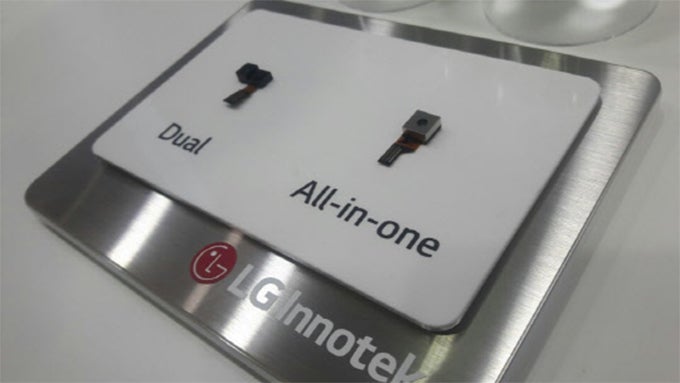 All-in-one iris scanner/camera sensor by LG showcased at KES 2016
We've already heard a handful of rumors regarding LG's next flagship phone, claiming that the Korean tech giant may be ditching modular design for good, that the phone may sport a Note-like curved OLED display, and that it may launch alongside a proprietary LG contactless payment platform, akin to Android/Samsung/Apple Pay. Well, we can now add another rumor to the mix, this time regarding the front-facing camera of the device.
At the Korea Electronics Show (KES), LG showcased a new type of all-in-one module that could serve as both a camera and an iris scanner. It is reportedly capable of doing this by changing "filters." Iris scanners work by illuminating the user's eye with near-infrared light, in order to acquire finely detailed photographs of their iris. Infrared light helps bring out some of the more intricate features of the iris, which are otherwise not as pronounced when observed under regular light, and is especially helpful when identifying dark-colored eyes. The Note 7, for example, has a second front-facing camera, dedicated to solely performing iris scans. This camera is much more sensitive than the selfie shooter, and is capable of picking up wavelengths from the infrared spectrum, while the regular camera is actually made to filter out infrared light, as it sometimes interferes with standard photographs. LG is reportedly looking to combine the strengths of both types of cameras by using some sort of filter-changing mechanism that could allow a regular camera to see infrared light when needed.
The implications of using one such component in a smartphone are not very far-reaching, but it could lead to bringing the total build costs down and is smaller than the current dual-camera setups used in the few mobile devices with iris scanning capabilities out there. According to a recent report by Korean publication Digital Times, the LG's new all-in-one sensor takes up less space – "only" 0.36 sq. cm, compared to the 0,47 sq. cm taken up by current iris scanner setups.
Given previous rumors that LG is planning to launch its own contactless payment platform, an iris scanner in its next flagship seems all the more likely. Samsung already incorporated its iris recognition technology into Samsung Pay as a more secure and convenient way of authenticating transactions, and although the only device that supported this feature was the ill-fated Note 7, it will likely become a standard in the industry in the near future, as more and more smartphones adopt similar tech.
Read more about LG's rumored G6 flagship:
source:
Digital Times
(
Translated
) via
SlashGear