LG G6 Quick Cover flip case review
4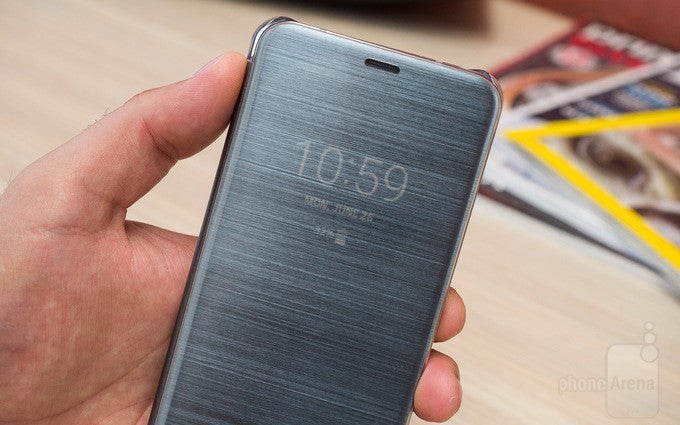 Gravity – it is a funny thing, isn't it? While it's great at making life possible and keeping the universe together, it is also known for its ability to turn smartphone screens into sea salt. Thankfully, there's a protective case for pretty much every smartphone in existence, and today we're taking a look at the official Quick Cover case for the
LG G6
.
In a nutshell, the LG G6 Quick Cover case is designed to protect the display and the rear glass panel of the phone, as well as its corners, from dirt and scratches. The accessory's front and back pieces are made of plastic and are held together by a "hinge" made of synthetic material. To put the Quick Cover case on your LG G6, you just snap it into place: it holds firmly and reassuringly onto the phone's four corners. The camera, the charging port, the headphone jack, and the fingerprint scanner at the back – they all work without issues. On the downside, having the case on means that your LG G6 won't feel nearly as slim as before. That the cover gets in the way as I'm trying to take photos is also mildly frustrating.
A feature you can't use, however, is the Always-on Display, as it is simply not bright enough to be visible through the semi-transparent plastic. Instead, you press the power button to check the time. Doing so also lets you see if you have any pending notifications, which are shown as icons only – you have to lift the cover to actually read anything. One more flaw I have to note: content shown "through" the cover is nearly or completely impossible to see on a sunny day.
As far as protection is concerned, the Quick Cover case keeps most of the LG G6's vulnerable spots protected. This saved my phone from scratching on multiple occasions when I accidentally put it in my bag next to my keys. However, keep in mind that the accessory is not advertised as efficient in case you drop the phone. Of course, having it on is much better than having no protection at all, but I noticed a tendency for the flip cover to open as the phone is flying towards the ground. (Ask me how I know.)
In conclusion, the official LG G6 Quick Cover provides a reasonable amount of protection while matching the phone's style and color, but it is still a few steps away from being a great flip case. In case you're not bothered by its imperfections, you can grab one for roughly 45$/40£.
Pros
Protects front, back, and corners
Lets you pick up calls without lifting the cover
Matches the color of your LG G6
Cons
Incompatible with Always-on Display
Notifications are hard to see in broad daylight
Cover should stay closed more firmly