LG G5 vs Samsung Galaxy S7: the first marketing shot has been fired
85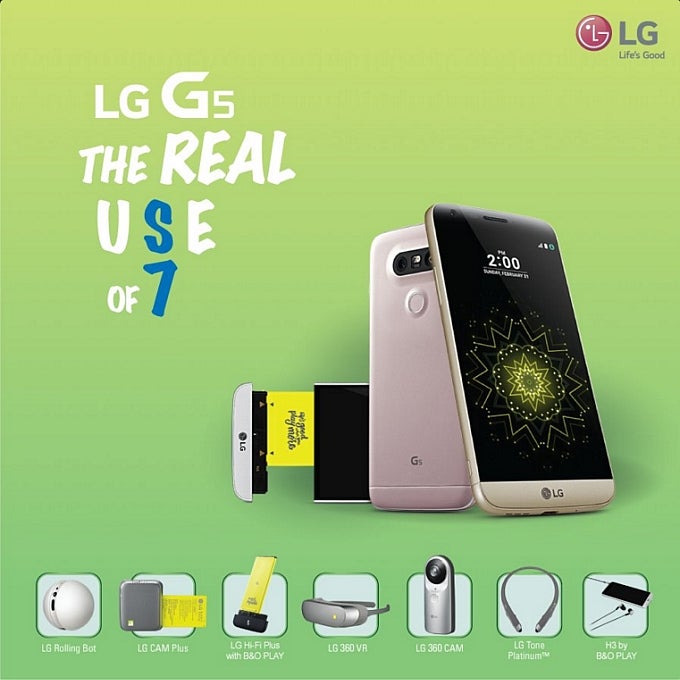 LG G5 vs Samsung Galaxy S7
In just a few hours yesterday at MWC 2016, Samsung and LG - two cross-town rivals with a huge influence on the smartphone market as a whole - announced new flagships smartphones.
As the
Samsung Galaxy S7
and the
LG G5
compete head-on in the same (premium) market segment, LG decided that it's a good idea to be the first to fire a bullet towards its rival's new flagship.
The Jordanian branch of LG has recently posted a photo on Twitter in which the LG G5 is flaunted as the best use of the number 7. In this case, LG is talking about the seven LG G5 accessories in the 'Friends' series. LG pairs the photo with a text punchline that reads "Think not what your phone can do, but what you can do with your phone".
Although this ad has yet to make it to the rest of the world, it does serve as a clear sign that LG is trying to position the G5 as a direct competitor to the Galaxy S7.
As you'll be able to tell by reading our
Samsung Galaxy S7 hands-on
and
LG G5 hands-on
, there are a bunch of similarities between the two phones: both come with a Qualcomm Snapdragon 820 chipset (in the US) paired with 4GB of RAM, both come with QHD "Always On" displays, and both come with metal builds.
Given all of these similarities, it makes sense for LG to flex its marketing muscle on the 'Friends' accessories, which is what makes the LG G5 unique compared to the Samsung Galaxy S7.
Chances are that this will not be the last punchline that the two companies exchange in their attempt to promote their new flagships, so stay tuned!