LG G5 rumored to come with a Snapdragon 820 and custom Sony camera sensor
22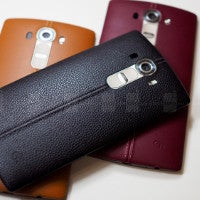 Well, folks, the
LG G4
is almost 5 months old now, so sure – let the
LG G5
rumors commence! This isn't even the first time we've heard of what new features the 2016 flagship may bring – a few months ago, the rumor mill claimed that LG is planning to skip the fingerprint sensor and equip the G5 with
an iris scanner
. Whether it's true or just wishful thinking by fans who were disappointed that the G4 has no biometric scanner – we've yet to find out.
Back to today's rumors – reports say that the next LG flagship will be loaded with Qualcomm's upcoming top-of-the-line Snapdragon 820 SoC. Sure, sounds logical enough, as most high-class manufacturers usually go for whatever is currently at the top of the Snapdragon food chain. Sure, the LG G4 was an exception, as it rocked the Snapdragon 808, instead of the 810, but it's probably safe to say that Qualcomm will be extra careful not to have another "overheating" scandal in 2016.
Further, the rumors say that the G5 will rock a 20 MP camera – up from the G4's 16 MP – and the sensor will be ½-inch wide and custom-built by Sony. Now, the IMX234 that's in the G4 performs amazing, and we can only hope that LG won't upgrade the number of pixels at the cost of the great low-light performance and color reproduction.
The LG flagship is still around 7 months away from its predicted annual refresh, so there's still plenty that could change about the G5. Are you expecting an iris-unlockable, Snapdragon 820-equipped smartphone?