LG G4 vs Samsung Galaxy S6: vote for the better phone
99+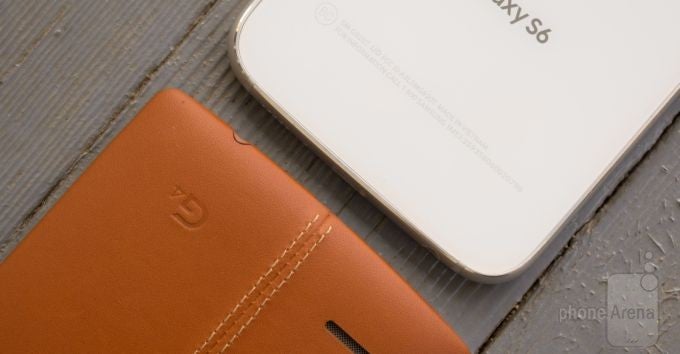 As if frozen in perpetuity, South Korean LG and Samsung have battled for supremacy since we can remember, but at each turn the outcome is the same: Samsung is on top. At least when talking about sales. But while LG has had gaps in its portfolio in years past, we can't help but imagine that the company is feeling more and more confident in its ability to take on its much larger, crosstown rival, especially given how well the G4 came out. But instead of sitting still and drown in complacency, Samsung, not its less successful rival(s), is the one keeping the rest on their toes, and the Galaxy S6 is a perfect example. Instead of settling for yet another iterative release, the company not only delivered on the whole, but also addressed some rather problematic parts of its flagship recipe.
So which of these two came out on top? By tapping your opinion whilst we present the facts as we know them, we're looking to answer that seemingly simple question. Let's begin by looking at the exterior.
Design
Let it never be said that LG and Samsung don't pay mind to feedback from consumers and critics alike. For their 2015 portfolio, both companies brought their A game, and finally addressed a common complaint: that their devices felt a bit on the cheap side, especially given the kind of money people paid for them.
Starting with the LG G4, the company decided to split its efforts, and so worked on two distinct blueprints. The first one imagined a device adorned with vegetable-tanned leather that would lend it a more premium look and feel, while the other focused on delivering a new take on the old polycarbonate recipe, but at a more affordable price. With the exception of the back, however, both models are identical and feature a mildly flexed, rectangular body with a clean profile and rear-mounted power and volume keys.
In Samsung's camp, the focus with the Galaxy S6 seems to have been on proving that the company could fashion beautiful devices out of mateal and glass. The S6 keeps signature design features such as the physical Home button on the bottom bezel, but exchanges the plastic frame and back plateof old for aluminum and sheets of scratch-resistant Gorilla Glass 4, respectively. Like previous iterations, Samsung's 2015 flagship features a rounded rectangular body, but one that has gone through a serious diet, resulting in a 0.27"-thick body.
So how do they compare side by side? Courtesy of its larger screen, the LG G4 is noticeably larger and 0.12" thicker (5.65 x 2.78 x 0.27 inches vs 5.86 x 3.00 x 0.39 inches
OR
143.4 x 70.5 x 6.8 mm vs 148.9 x 76.1 x 9.8 mm).
Which one do you like better?
Display
First to cross the 5-inch threshold with its flagships, LG's been consistently ahead in terms of the display sizes it considers appropriate for its top-of-the-line device each year. Starting with the LG G3, we moved into true phablet category, with a 5.5" display becoming the norm. LG used the same massive LCD IPS display for the G4, as well, including the Quad HD (1440 x 2560) pixel resolution, which works out to the excellent 538 ppi. Samsung, too, is sticking to what it considers best — a 5.1", Quad HD Super AMOLED display, good for 577 pixels per inch.
Apart from differences in size, there are also distinctions in terms of both the properties of both devices' panels. With the G4, LG went for a DCI (Digital Cinema Initiatives) calibration, which means chasing after a much wider color gamut than the standard sRGB color space. The screen is, therefore, supposed to deliver a superior color depth, but you should keep in mind that Android, all of its apps, and the internet all adhere to sRGB, so the effect is pretty limited. Samsung did something similar, and not at all at the same time, proposing a solution for all tastes. If you want color accuracy, you can select the Basic screen mode and get just that, while AMOLED enthusiast can stick to AMOLED photo for those signature colors that just pop.
Consulting our own measurements, we can't argue against the superiority of the Galaxy S6's results. Its Super AMOLED display is brighter, has an excellent color temperature (in Basic mode), and gamma and average color error are both pleasing.
Display measurements and quality
Interface and functionality
Dubbed UX 4.0, the software on the LG G4 didn't change drastically from what was available on the LG G3, especially if you consider the latter's UI under Android Lollipop. For the sake of objectivity, we have to point out that the proprietary skin, while feature-rich, is still pretty heavy on the software. Thankfully, better silicon is available with the G4, so navigation is mostly fluid.
Speaking of fluidity and features, however, we immediately think of Samsung's controversial TouchWiz layout. As we mentioned at the start, Samsung addressed weaknesses of its recipe, and that meant taking a good hard look at its custom UI and doing what needs to be done: axing features. Still, even without some of the features available to the Galaxy S5 (say, One-handed mode), the Galaxy S6's software is quite feature-rich by any standards (and you still get a fingerprint scanner and a heart rate sensor). But the really important bit? This is the first time we've seen a Samsung handset — yes, even flagship — fly through TouchWiz with anything approaching grace.
Of course, when it comes to which one you prefer from a purely aesthetic standpoint, there's no right answer.
Camera
For a while now, LG and Samsung have been churning out flagship phones with world-class cameras, and the G4 and Galaxy S6 are no exception.
With the G4, LG follows into Samsung's footsteps, bumping the sensor to 16 megapixels, and keeping the laser auto focus assist system of the G3, along with a better-than-ever, 3-axis optical stabilization. LG has also beefed up the software supporting this gear, and now offers the most comprehensive manual mode we've seen on a smartphone, complete with fine controls over color temperature and shutter, and even dedicated histograms.
Samsung, too, took a page off LG's book, and finally implemented optical stabilization for use with the 16-megapixel Sony (or Samsung, depending on the batch) sensor. Instead of fancy lasers, the Galaxy S6 relies on proven, phase detection tech for auto focus, and a manual 'Pro' mode is also available from the camera app. Unfortunately, that one is far from as comprehensive as LG's, and doesn't offer nearly as much control.
Here are some images we snapped with the two devices. Whose camera do you think did a better job?