LG G4 vs LG G3: first look
15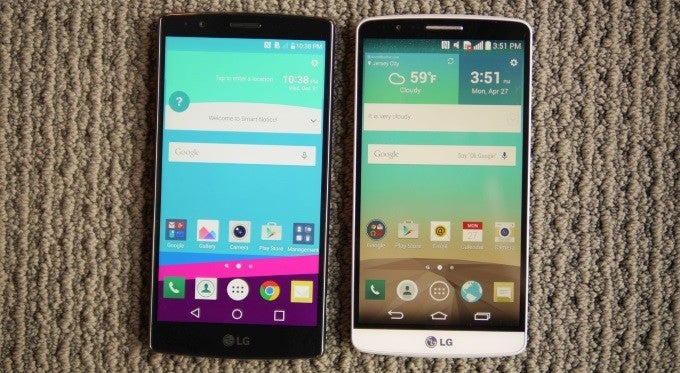 Introduction
When it launched in May last year, the LG G3 was certainly an impressive fiend. It was the first smartphone to ship with a quad-HD resolution display, in addition to a terrific spec sheet, spearheaded by the aforementioned screen and an innovative laser auto-focus system. Thanks to moving a good six months ahead of the industry, LG made the LG G3 stay relevant to this day, even as lower-priced and better performing devices eventually matched its superiority. Among these is the new LG G4, poised to continue carrying the torch after its predecessor ascends to the Valhalla of smartphones. The LG G4 contains all the necessary improvements to keep LG in the crazy smartphone-making game for another year. Here's how it compares to the LG G3, which, following its inevitable discount, could quickly become
the
bargain QHD smartphone for customers outside China.
Design
The LG G4 doesn't run from its bloodlines. In fact, it straight up borrows the main design characteristics of the LG G3, but adds a premium touch. The LG G4 has an edgier, more rectangular look with its tightened-up lines, while the LG G3's corners are decidedly more rounded in comparison. That's about all the new business on the front, so how's the party on the back? Well, it's kept the buttoned-up dress code - and by that, of course, we mean that LG once again placed the volume and power keys under the camera lens. But the LG G4's back flaunts a new diamond-like pattern, complete with a ceramic finish over the plastic material. And if you have more cash to spend, you can splurge on a vegetable-tanned genuine leather back, complete with sophisticated stitching. In addition, the LG G4 has a very slightly curved body, making it a little more natural to hold. Otherwise, the two are quite alike, complete with their removable back panels and microSD card slots.
Dimensions-wise, the LG G4 sizes up to148.9 x 76.1 x 6.3mm (in the thinnest spot) - 9.8 mm (in the thickest spot). In inches, this racks up to 5.86 x 2.99 x 024 - 0.38 inches. The weight is 5.46oz (155g). In comparison, the LG G3 measures 5.76 x 2.94 x 0.35 inches (146.3 x 74.6 x 8.9 mm) at 5.26 oz (149 g).
The LG G4's design improvements are nice and all, but it's tough to distinguish them as more attractive than what the LG G3 already had to offer, or especially the competition's metal and glass precision design. The LG G4 isn't water and dust-proof either, which would have made for meaningful improvements.
Display
Some you may have feared (or gleefully anticipated) that LG will make a tradition out of releasing smartphones with higher-than-thou resolution screens each year. For better or worse, the LG G4 doesn't come with a 3K or 4K panel, although this is only the first half of 2015, and who knows what LG or its competitors may be priming for the next couple of quarters! Anyway, the LG G4 packs a 5.5-inch display with a resolution that we're now accustomed to - 1440 x 2560px with a 538 pixels per inch pixel density. Once again, an IPS LCD display. So far, this sounds just like the LG G3 did in 2014, but there's more to the LG G4's screen than meets the eye. It has been pimped out with quantum display technology that LG hypes as capable of richer colors and a stronger brightness output of over 500 nits. In addition, it ought to be a less power-hungry panel, too. Hopefully, the wider color gamut won't result in artificially overblown colors. You don't want to order an orange t-shirt online and end up with a red one in the mailbox, do you? Additionally, LG claims a 25 percent improvement in brightness and 50% improvement in contrast over the LG G3!
Interface
The LG UX 4.0 interface that the LG G4 comes with doesn't seem to be a dramatic change from what we had on the LG G3. It's still mostly about bright colors and unencumbered straightforwardness, which means it appears more cartoony compared to the latest Samsung TouchWiz or HTC Sense 7 interfaces, but it's a breeze to use. Still, bright colors don't mask the interface's usefulness. Users can still run two apps simultaneously or in windows, and take notes while they are at it.
Perhaps most importantly, the camera app has received a major overhaul. In the LG G3, it was far too limited, taking all control away from the user in favor of an (admittedly, well calibrated) automatic mode. In the LG G4, the camera is back with a vengeance. LG is looking to capitalize on that 16MP 1.8 lens unit with simple, basic, and manual control modes that offer complete creative control and storing of images in RAW format, among other advanced photography features.
Processor and Memory

The LG G4's processing department sees a substantial improvement over the LG G3, as the new flagship is powered by a 64-bit hexa-core Snapdragon 808 CPU with faster RAM and a more advanced Adreno 418 graphics unit. The LG G3 makes do with a quad-core Snapdragon 801 chipset which, despite LG's respectable optimization efforts, did a mediocre job at servicing the QHD display. The Snapdragon 808 strikes us as an unexpected SoC choice, as it has less power on tap than Qualcomm's flagship Snapdragon 810 chipset. However, it doesn't look like we'll be seeing the 810 perform to its fullest potential any time soon, due to the aggressive speed throttling needed to keep its thermals in line. This means the LG G4 has a realistic chance at keeping up with its contemporaries in the performance aspect, and it will certainly work faster than the LG G3 does.

The LG G4's base model will offer 32GB of internal storage, which can be supplemented thanks to its microSD card slot. This is another flagship that deals away with the measly 16GB of storage. Oh, to think of the times we were content with 8GB storage! The LG G3 ships in 16 and 32GB flavors, which can be expanded with microSD cards as well.




The house is ran by a 3000mAh battery, same as in the LG G3. LG promises that the LG G4 has no trouble going through a full day of normal use, but there's no universal definition of "normal use" in circulation, so we reserve the right to put the smartphone through our battery life test.
Camera
In place of the LG G3's 13MP cam, the LG G4 sports a brand new 16-megapixel 1/2.6" sensor of LG's own making. The camera boasts a sizeable bag of tricks- wide f/1.8 six-element aperture lens, laser auto-focus assist, optical image stabilization, and a dual-LED flash. This camera sounds better equipped for troublesome low-light situations than the one on the LG G3, but the latter is still an impressive performer that too flaunts laser auto-focus, OIS, and snaps sweet-looking photos.
One of the LG G4's most important new additions is the improved camera app, which welcomes back the Manual mode. A questionable omission from the LG G3, Manual mode gives experienced photographers a shot at landing that perfect scene. The LG G4 also offers support for RAW file format and it has an option to adjust the camera shutter speed.
Additionally, with the LG G4, you get an "ultra-thin IR filter" which prevents infrared light from sneaking into the camera lens, the new 8 MP front cam should give those selfies more natural and accurate colors. Meanwhile, the OIS module seeds the addition of a third axis, while the range of image stabilization has been expanded from one to two degrees on the X and Y axis. There's also the addition of Color Spectrum Sensors - LG claims it's the first of its kind in a smartphone. CSS improves color accuracy by precisely reading the RGB values of the ambient light in a scene, as well as the infrared light reflected from objects. CSS uses this information to adjust the camera's white balance and flash color to create images that are as close to what one would see with the naked eye.
Expectations

From a specs point of view, the LG G4's arsenal is impressive, yet predictable. QHD and laser auto-focus' novelty has worn off in the span of a year, which doesn't devalue their technological significance, but makes them less exciting for customers. At the same time, the LG G4's design doesn't appear to be drastically improved, which could see buyers having a hard time choosing it over the LG G3 if the two were to be displayed in a store right next to each other. Still, the considerable display, performance and camera gains make the LG G4 a good choice over the LG G3, much in the same way the LG G3 stood for itself against the affordable LG G2. Still, the LG G3 could lure in many a buyers if the price for a new unit drops further, making it an excellent value proposition. Those who want the absolute best, though, should be prepared to plunk down the cash in exchange for the new flagship.