LG G3 vs iPhone 5s: first-look
24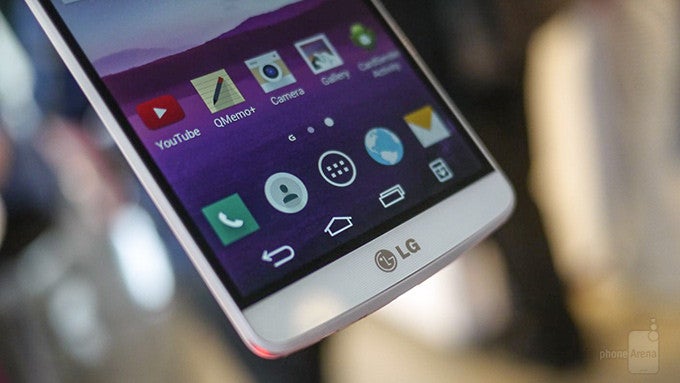 So here it is, guys – the LG G3 in the flesh! We are finally given the chance to experience LG's latest and greatest smartphone, and it seems like the wait has been worth it. How does the LG G3 stack up against its rivals, however, and is it a worthy alternative to the widely popular iPhone 5s?
Design
There isn't much that the
LG G3
and the
iPhone 5s
have in common. LG's new flagship is a smartphone of considerable size, making Apple's handset seem tiny when stacked up against it. As expected, the G3 is also the heavier of the two. Apple's iPhone 5s, on the other hand, is smaller, which makes it infinitely easier to operate single-handedly. It is also easier to fit in the side pocket of a pair of jeans.
LG has decided to stick with plastic for the G3's outer construction. The phone, however, doesn't look bad at all. Its surface has been treated to a brushed metallic finish with a matte touch, so it has a hint of premium feel to it, all the while reducing the amount of fingerprints sticking to its surface. Plus, its back cover is removable – once it is off, the G3's battery and card slots become exposed. The iPhone 5s is no less good-looking of a smartphone. Crafted meticulously of glass and metal, Apple's best handset feels solid and very well put together.
Following in the footsteps of its predecessor, the LG G3 has its power and volume keys placed on the back, right below the camera lens. This is a design feature that we've commented on numerous times, and ultimately, it all boils down to two possible scenarios – you'll either learn to live with the G3's buttons, or not. These are all of the physical buttons that the G3 has as navigating the Android UI is done using virtual keys. Meanwhile, the Apple iPhone 5s has an excellent set of physical buttons – a power key on top, volume and mute buttons on the left side, and a home key underneath the screen, doubling as a fingerprint scanner.
Display
Long gone are the days when the iPhone bragged with the most pixel-dense screen. This title now belongs to LG as its G3 flagship boasts a whopping 538 pixels per inch. To be more specific, the 5.5-inch LCD panel has a resolution of 1440 by 2560 pixels, also known as QHD. It goes without saying that the phone's display looks outstanding, and its spacious area makes it ideal for multimedia consumption. The iPhone 5s has a 4-inch LCD display with a resolution of 640 by 1136 pixels for a ppi figure of 326 pixels per inch. It may be smaller and with less pixels at its disposal, but don't be too worried by that. The iPhone's screen looks great with its accurate colors and wide viewing angles. Placing the two screens side by side demonstrates that the display on the iPhone 5s appears almost as sharp as the G3's when viewed from a normal distance.
Interface
The LG G3 will launch running Android 4.4.2, which is the latest version of the platform as of this writing. As for the iPhone 5s, it currently runs iOS 7.1.1. The differences between the two platforms are fundamental, with Android known for being the more "open" among the two. Google's OS is very flexible when it comes to customization, letting both manufacturers and users augment its looks and functionality to a given extent. Apple's iOS is built around the ideas of sense and simplicity, and is acclaimed for its broad selection of quality applications.
On the LG G3 we find a new flavor of the company's custom interface. The UI now has a flatter look, as is now the trend among smartphone interfaces. Feature-wise, LG has thrown in a smarter keyboard that is programmed to adapt to the user's typing style and habits, thus delivering a more pleasant messaging experience. We're looking forward to testing this thoroughly once we get the chance.
Furthermore, the so-called Smart Notice feature is meant to serve as a personal assistant, providing suggestions and recomendations based on a number of factors, including the user's behavior, phone usage patterns, and current location. Yup, it reminds us of Google Now, but there are a few neat twists. For example, Smart Notice will prompt you whether you want to remove large, unused files stored on the device's memory. It will also remind you of missed calls at a later time. Siri is the iPhone 5s's personal assistant, but she doesn't quite work in the same way. She provides her services only when asked by the user, via voice commands spoken in a natural language. And you might be surprised by the list of topics that Siri is competent on. In addition to asking her to call or text a contact, to search the internet, or to give you directions, you may ask her for last night basketball game's result, or for a review of a popular movie.
The LG G3's set of security features has been enhanced with the addition of
Knock Code
– a user-defined unlocking pattern built as an alternative to lock screen PINs and passwords. Furthermore, a feature called Content Lock limits access to specified files when the handset is connected to a computer. And last but not least, the Kill Switch option on the G3 allows content to be wiped remotely in case the device is lost or stolen. The iPhone 5s, on the other hand, features Apple ID – a fingerprint scanner embedded in the home button, serving as a replacement for your lock screen PIN or pattern. The fact that fingers don't have to be swiped in order to be read makes Apple ID the most convenient fingerprint scanner implementation on a smartphone right now.
Processor and memory
Well-deserved kudos go to LG for outfitting the G3 with the fastest SoC that Qualcomm has to offer. That's the Snapdragon 801, model MSM8294-AC, which sports a quad-core Krait 400 CPU with a maximum clock speed of 2.5GHz. And with up to 3 GB of RAM, the LG G3 should be able to handle multitasking with ease. The iPhone 5s may seem inferior on paper. It sports an Apple-designed A7 SoC with a dual-core, 64-bit SoC, 1.3GHz CPU clock speed, and 1GB of RAM. But in reality, the iPhone's buttery smooth performance rivals that of any other flagship. Software and hardware work in tandem to deliver a top-notch, lag-free user experience.
The LG G3 comes with either 16- or 32GB of storage, and those who don't find that sufficient are free to throw a microSD card of up to 128GB in there. The iPhone 5s, however, does not offer any expandable storage options. The only solution is to purchase a model with extra gigs, and those don't come cheap – the 32- and 64GB iPhone 5s models cost $100 and $200 more than the 16GB one, respectively.
Camera

This is a category where the LG G3 seems to have the upper hand, although an in-depth comparison will show whether or not that's the case. LG's flagship sports a 13MP camera with OIS+ optical image stabilization for steady videos and blur-free images. Furthermore, LG has added a laser beam for rapid and accurate auto-focusing and a two-tone LED flash for improved color accuracy. On the iPhone 5s we find an 8MP camera with software image stabilization and a similar two-tone LED flash. Yet ultimately, it is image quality that determines whether a camera performs well or not, and we know from experience that the iPhone 5s's camera delivers great results. That's why we're guessing that if the G3 turns out to be the better shooter, it may not be leading by a whole lot.




Both phones can take 1080p videos with their cameras. The LG G3, however, has a broader range of video modes, including 1080p at 60fps and 4K at 30fps. Slow-motion videos at 120 frames per second can be shot as well.



Expectations
While both the LG G3 and the iPhone 5s belong to the high-end smartphone category, there's quite a lot that sets them apart. The LG G3 is surely going to attract attention with its gorgeous, QHD display and impressive list of specifications. Plus, we're satisfied with what LG has done to enhance the appearance of its flagship. As for the iPhone 5s, it is the default choice of Apple devotees, and a device recommended to those in need of a no-hassle, no-compromise smartphone. Sure, specs may suggest that Apple's smartphone is weak by today's standards, yet in reality, its performance is commendable. The compact form factor of the iPhone is also considered an advantage by many. All in all, those in need of a pocket-friendly smartphone that is easy to use should take a look at the iPhone 5s. The LG G3, however, is the one more suitable for buyers demanding the latest technology and a lengthy list of extras.