LG G3: all the official images
8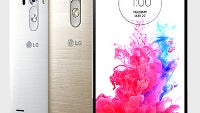 LG has officially unveiled the G3, its 2014 flagship, and all you've heard about it is true: yes, it indeed comes with a Quad HD (2560 x 1440-pixel) display, the first one in a phone from a brand that you've heard of, and true, it comes with laser auto-focus and improved camera.
It's not just about what's under the hood, though - LG has done a tremendous job designing the G3 to be very compact for its screen size. Its 5.5-inch screen is the size of a phablet, but the screen bezels are so tiny that the actual size of the LG G3 is actually closer to that of non-phablet smartphones like, say, the Sony Xperia Z2. The phone also sports those slight curves that make it easier to grip, something essential for a device with a large, 5.5" display.
In terms of its visual appearance, the LG G3 somewhat resembles the HTC One (M8) with its brushed look, but here it seems that LG has gone with polycarbonate styled to look like metal (something LG calls "metallic", but not metal). The matte overlay on the back of the phone also helps keep it free from fingerprints. But words won't do it as much justice as pictures, so feel free to take a look at all the official press shots of LG's new flagship below.