LG G Pad 8.3 will retail for $299, says rumor
32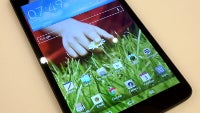 According to Chinese Zol, the LGG Pad 8.3, which was recently unveiled at IFA 2013, will retailfor a pretty enticing $299 a pop when it hits the market in Q4.This has the potential to pave the way for a grand re-entry into thetablet space for LG – an area in which the South Korean companydidn't manage to really establish a foothold in prior years.
For those of you foggy on the specsof the 8.3-inch G Pad, there's a good reason to memorize those: LG has packed some pretty decent internals.Those include an 1080p screen, a 1.7GHz quad-core Snapdragon 600 and2GB of RAM. Taking a page from its rivals' books, the LG has includedboth a front- and rear-facing camera – 5MP/1.2MP, respectively.Powering the show is a 4600mAh battery.
As far as dimensions go, the LG hasworked its thin-bezels-magic, meaning that the G Pad 8.3 is pretty compact,with dimensions of 216.8x126.5x8.3mm, and a weight of 11.92 oz(338g).
All of the regurgitated specs aboveserve to make the following point – while the price tagis obviously unconfirmed, if LG manages to out a tablet with thosespecs at the budget-friendly price of $299, then it seems likely that the company will have a winner on its hands. That, of course, doesn'taccount for any surprises that companies like Amazon can workup, with their similarly budget-friendly Kindle tablets, which are said to be even more ambitious, specs wise.
LG sure is looking better and better with each passing day.
source: Zol via Unwired View