LG G Flex's curved display may develop bumps. The company says these don't affect performance
17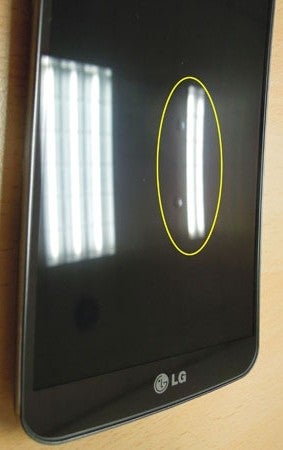 LG G Flex
is a unique piece of technology. Thanks to the curved, flexible 6-inch display used by LG, the new smartphone can be bent, only to regain its initial shape quickly after that. But is it
exactly
the same shape? According to Korea Times, small bumps can appear on the G Flex's display, and LG was aware of this problem before launching the handset.
The photo on the left, showing two small bumps on the screen of a G Flex, was taken by Korea Times in a retail shop in Seoul. The publication quoted a local salesclerk who claimed that "all LG G Flex models" that he'd seen so far "came with small bumps."
Furthermore, according to an official at the Korea Display Industry Association, LG "was rather hesitant in releasing its curved-screen smartphone, as it was previously aware of some technical problems. LG should have notified consumers ahead of the product launch."
Fortunately, LG did provide a statement on the matter to Korea Times. Here it is:
"Because key components inside the G Flex such as the glass cover, OLED display, battery and frame are elastic, excessive or frequent force that flattens the device may produce bumps. The issue has no relation to the performance and quality of the device."
Reportedly, LG also said that the bumps would disappear over time, but users who don't want to wait can get rid of them "after pressing the problematic spot on the glass cover."
When we
reviewed the LG G Flex
we didn't spot any bumps on its display. Perhaps we didn't bend it enough? In any case, the bumps don't seem to be a problem that should worry users. Nevertheless, it's good to hear LG clarifying things.
It's said that more than 13,000 G Flex smartphones were sold in Korea until now (since November). The rather low number confirms the handset's niche status. Later this quarter, LG will release the G Flex in the US via AT&T, Sprint and T-Mobile, obviously hoping to... see a sales bump (hey, it's a nice word after all).
source:
Korea Times