LG G Flex battery life test: sci-fi features and great battery
24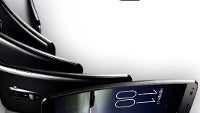 We have been waiting for the first flexible smartphone for years, not months, and now not one, but two have arrived at nearly the same time. The LG G Flex is the one we'll look at - a phone that flexes and bends, and you can even sit on it without breaking it. To arrive at such magical functionality, LG made not only a flexible display, but a flexible battery as well. How does it perform and will this futuristic phone last you a full day?
We've put the LG G Flex through our extensive battery test that simulates real-world smartphone usage, and the score is in. The massive 3500mAh battery works out to power the 6-inch G Flex for
exactly 7 hours and 11 minutes
. What does this mean? It's an excellent score, and it means that under typical use the phone would last more than 7 hours if you use it non-stop. In real life, however, we, of course, don't stay glued to our smartphones and they stay idle in our pockets and our desks for the biggest portion of the day.
So all in all, you can be certain that even under the heaviest of use, the LG G Flex will get you through a full 8-hour workday without breaking a sweat. Moreover, in most cases it'd easily last a full 24 hours. Put it to more average use, and we can easily imagine it averaging two days between charges.
The LG G Flex actually outlasts nearly all of its rivals - top-shelf smartphones like the Samsung Galaxy S4, Note 3, Apple iPhone 5s, and HTC One. Among popular devices, it is second to only the HTC One Max, and that's an impressive showing.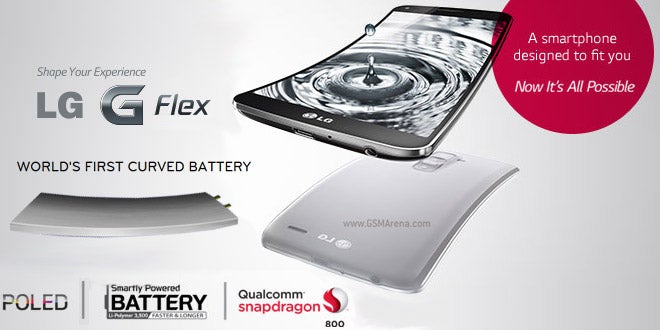 To make the magic happen, LG uses a new type of battery that is flexible and stacked. It's not user-removeable, but still packs a very noteworthy 3500mAh of charging capacity.
All in all, the LG G Flex is one large phone with an equally large and long lasting battery. Having a smartphone that is guaranteed to last you a full work-day takes a lot of the stress of using a smartphone, and we definitely appreciate it.
Testing method:
As for our battery test, we use a simulation of real-life usage. A smartphone nowadays is used for much more than calling and texting, so we had to take this into account. The average smartphone user actually spends most of the time on the web and social media, and you might be surprised that this average Joe of a user actually listens to music and plays games more than he talks! To get a better understanding of that average use, feel free to take a look at the top activities we do on our smartphones.