LG Android smartphones get 50GB free cloud storage for life, courtesy of Box
6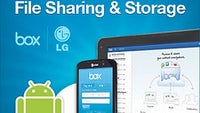 Cloud storage services are pretty neat, aren't they? Users can back-up their data safely on a remote server and then easily share their files with the world if needed. Yet sometimes, the storage space these services provide for free just isn't enough.
However, that won't be the case for some LG smartphone owners. Box.com is giving away 50GB of storage to owners of an Android smartphone made by LG.
The offer is valid for users in the U.S.
with a handset running Android 2.1 or later on a device with HVGA screen (320 by 480 pixels) or higher. Best of all, the 50 gigs will be theirs to use for life. If eligible, all that one has to do is to
register before December 31, 2012
, in case they aren't a Box user already.
The announcement of the promo coincides with the release of a new Android version of the Box.com client. One of the new features that has been added is the ability to download files from the cloud onto your smartphone or tablet. Another is the option to mark files for offline use. Last but not least, bulk upload is now enabled in the new version, allowing users to send multiple files to the cloud in a few easy steps.

So yeah, good news for all you LG smartphone users! Go ahead now and claim your free 50GB of cloud storage, or follow the source link below for more information.
Thanks for sending this in!