Kyocera Urbano Progresso to launch this week, brings tissue conducting technology to the masses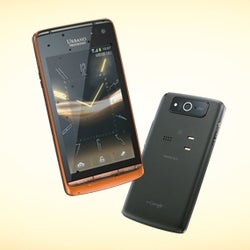 Back at CTIA 2012, we had the opportunity to check out a smartphone that was like no other, and it carried a Kyocera logo. The device in question utilized the company's
tissue conducting technology
that drops the standard earpiece in favor of a ceramic transducer – a gizmo that makes the handset's surface vibrate delivering clear audio when in contact with the user's ear. Sounds really cool, doesn't it? Well, what is even cooler is that a smartphone using this innovative tech will be available for purchase in just a few days, albeit only in one particular contry.
Introducing the
Kyocera Urbano Progresso
– equipped with a Smart Sonic receiver (apparently that is the name, under which the aforementioned transducer will be marketed), and bound for the Japanese market. Fancy earpiece aside, the smartphone's specs are anything but groundbreaking, but still sufficient for the needs of Mr Average Joe. Under the hood we have a dual-core Snapdragon S2 chip clocked at 1.4GHz. The display measures 4.1 inches and the camera on the handset's back is of
8.1
megapixels. As one would expect out of a Japan-bound smartphone, the Urbano Progresso is waterproof, so those unpredictable summer rains should not be much of a concern. Android 4.0 comes out of the box, and the local flavor of WiMAX provides speedy web access on the go.
Although the Kyocera Urbano Progresso will probably stay within Japanese bounds, the company promised to deliver ceramic transducer-equipped smartphones to the U.S. as well. Hopefully, we will get to try them out by the end of this year.