Kurio introduces "safest" smartphone for kids
26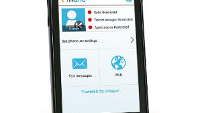 You might remember that back in 2012, we told you about
Kurio's Android tablets for kids
. Now, the company has unveiled a smartphone for children that includes parental controls and other features. Kurio calls it
"the safest smartphone for kids
." Parents can control which apps can be installed, or blocked. Parents can also block certain people from being added to the contacts list. Mom and Dad can select up to five names on the list as primary contacts, and these names cannot be removed by the child.
As you might expect, parents can control the number of minutes their child uses the phone to make calls, and can also block the number of text messages sent. Parents, though, cannot snoop on the content of texts and MMS messages. The GPS on Kurio Phone can report back to parents the location of their child every 15, 30 or 60 minutes. And a geofence can be set up which means that if the child enters a certain restricted area, Mom and Dad will receive an alert. The areas that are restricted can be activated during certain days and times.
"Kids want cell phones, but with access to this technology comes great responsibility. Kurio Phone includes additional parental controls to address safety concerns that come along with giving a child a mobile device, but they also promote the child's independence and help foster an open parent-child dialogue. In fact, on the smartphone, the child will be able to monitor his or her own phone usage and see the parameters that mom and dad have set."
-Pieter van den Bosch, strategic director, KD Group
If the phone is lost or stolen, it can be remotely wiped, and a message can be displayed on the screen. The front-facing camera can be set to snap a picture when the phone is started up. And while many of you might consider this to be micro-managing, parents can be notified when the child turns his phone on or off, or when the Kurio phone has a low battery. The parents can also agree to be notified when the SIM card on the device is changed.
The Kurio Phone has a 4 inch screen with resolution of 480 x 800, a multi-core processor, and 1GB of RAM on board. A back and front facing camera comes with the phone, which offers 3G connectivity. There is 4GB of native storage and a 32GB capacity microSD slot. Android 4.2 is installed, and the phone can filter 450 million websites in 170 languages for suitability.
Pricing is unknown, but the phone is expected to launch this Spring.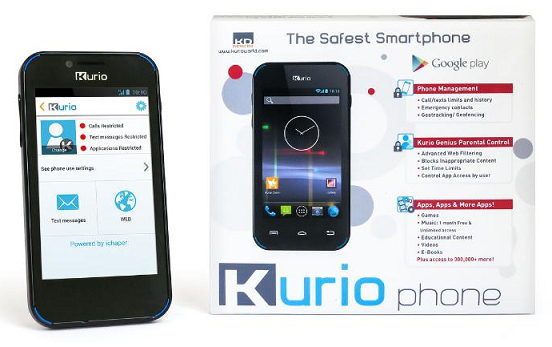 The Kurio phone has many safeguards for kids
source:
Kurio