Kuo says Apple iPhone 8 faces "worse case scenario" shortage
29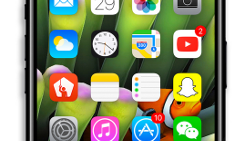 KGI securities' Ming-Chi Kuo is considered one of the best analysts covering Apple. In the past, he has provided the specs and features of upcoming iPhone models months before the phones were unveiled. The point is, when Ming-Chi Kuo talks about Apple devices, people listen. Or at least, they should listen. And Kuo is now telling KGI's clients that the tenth anniversary model of the iPhone, dubbed the
Apple iPhone 8
, is facing huge shortages because of production problems.
According to Kuo, he worries about the 3D sensor on the front-camera of the iPhone 8. At one time, the analyst said that
the front-facing camera on this device would be revolutionary
. Kuo also worries whether Apple will cancel its Touch ID fingerprint scanner. Rumors call for Apple to embed Touch ID under the display, but the company is having problems making it work. Plan "B" allegedly calls
for a Touch ID button on the back of the unit
. Why can't Touch ID stay embedded in the home button like it is now? That is because Apple plans on using an edge-to-edge display with no home button for the iPhone 8. The analyst also wonders if Apple's competitors will launch more innovative handsets than the iPhone 8.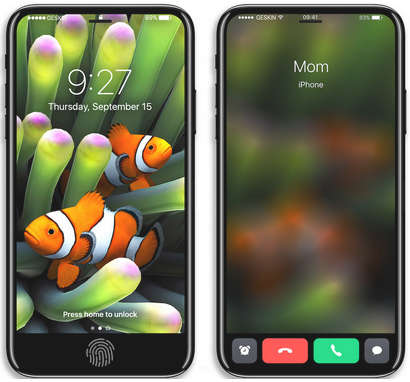 Renders of an iPhone 8 concept with an embedded Touch ID under the display
But the main issue that Kuo calls "the worse-case scenario" for the iPhone 8 has to do with the hardware upgrades that Apple is planning for the handset. The changes are causing shortages of the components needed to build the phone. Other problems building the device are causing the analyst to expect the actual manufacturing of the phone to be pushed back to October and November instead of the usual August and September time period.
Another analyst, Drexel Hamilton's Brian White, said last month that
he expected Apple to delay the launch of the phone
, but still have it available in time to take advantage of the holiday shopping season. Cowen and Company also sees a 4 to 6 week delay in the release of the iPhone 8, which would mean a possible November launch for the device.
Kuo told his clients that he is reducing his forecast of second half 2017 iPhone shipments to 80 million-90 million units. That is down from his original estimate of 100 million-110 million handsets shipped. Wall Street is looking for Apple to deliver 100 to 120 million iPhone units during the same period.
source:
CNBC
via
9to5Mac