KitKat promo video is all about the magic
30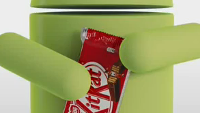 We've gone over the difference between KitKat the chocolate candy bar, and KitKat the Android flavored OS build. Nestle and Hershey have been good sports, playing along with those who keep asking the chocolatiers when Android 4.4 is going to be released. On Tuesday, the official KitKat YouTube site posted a quick little animated clip that lasted all of 27 seconds.
The video, called #magicbreak, stars two BugDroid robots, one of whom is a magician with a top hat and all. Something is missing though, and it is a magic wand which is replaced by a single KitKat stick. The BugDroid magician is about to pull something out of his hat (Android 4.4?) when all of a sudden, he devours the chocolate.
On the Google+ page that the video was posted on Tuesday, a mysterious quote was posted which read, "
one to enjoy whilst you're waiting
." And that is about as much as Hershey and Nestle will say about the Android 4.4 launch because they are not involved in making the decisions relating to the launch. We know that this is a concept that seems hard for many to understand, but let's go through it one more time. Google does not make chocolate bars and the companies that make KitKat are not tech firms. Judging from the posts and tweets on the candy companies' Facebook and Twitter sites, you might be excused for believing that the public doesn't grasp this distinction.
In the meantime, you can check out the latest KitKat promo video by clicking on the play button below.
source:
KitKat