KitKat is coming to Google Glass this week
2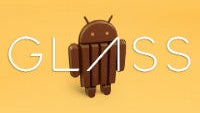 At the end of February, Google announced that its
monthly updates
to Google Glass would be going off schedule at least for a little while. The idea was that Google wanted to focus on getting Android 4.4 KitKat ready for Glass, rather than continuing to push smaller updates. It seems like that focus has paid off, because KitKat will be coming to Google Glass later this week.
The update will be adding a number of nice features, which we'll get to in a second, but the update will also be removing a feature. Google says that only 10% of Explorers have been using video calling on Glass, and the feature simply hasn't been living up to Google's standards. So, video calls will be removed "until the experience is better".
But, it's more fun to check out the features being added to Glass. On that front, photos and videos will be organized into bundles to make it easier to sort through your collections with the limited input controls on Glass. Photo sharing has been expanded as well, so you can send photos through Hangouts. Google has also organzied the voice command list better, and put the most frequently and recently used commands at the top of the list. Beyond that, it will be easier to send feedback, it should improve battery life, and there will be more updates that Google hasn't listed yet.
This week definitely marks a big ramp up in Google's Glass Explorer program. Tomorrow, Google will be
opening up Glass sales
for one day to allow anyone in the U.S. to purchase the device. Combine that with the KitKat update, especially the added feedback options, and it is clear that Google feels like the device is ready to go into a much bigger beta test. Anyone out there planning to get Glass?