Google Glass to get KitKat; monthly updates are a thing of the past?
15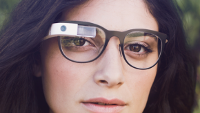 The XE14 update for Google Glass, originally scheduled to be released last month, has been delayed. Glass Guide Teresa Zazenski spread the word in the forum made just for Glass Explorers. Zazenski said that the team did not want to send out an update that "
isn't ready for primetime yet
." Google's Sarah Price, who is the community advocate for Glass, also hinted that the days of monthly updates are over. Moving away from a monthly schedule allows the team to focus on larger changes and won't force an update to be released until it is perfectly ready to be sent out.
Also of interest to Google Glass Explorers is word that an update is coming that will take the connected specs from Android 4.0.3 Ice Cream Sandwich, to Android 4.4 KitKat. Zazenski says that the move to Android 4.4 will make the Glass experience smoother and better. Explorers seem to be excited by the prospect of the update to the next Android build.
"The February Update

‎02-28-2014 05:19 PM

OK, before you read any further, make sure you're sitting down. Are you sitting down now? Good.

We know that a lot of you have been patiently waiting for the next release. In fact, your excitement and anticipation for our upcoming releases always pushes us to come up with something that's worth the wait. It needs to be good. And what we had planned for February just isn't ready for primetime yet. So... we've decided to hold off for now.

[Go ahead, feel free to take a moment of silence to honor the fallen updates.]

I know this might be a disappointment to some of you. But it's all part of the Explorer program. We're trying a lot of things. Most of them work out great, and some of them need a little more polish. In this case, we'd rather wait to get it right, than release something that isn't up to snuff.

Now the good news. We're still moving extremely quickly. Since the first Explorers got their Glass less than a year ago, we've already been through eight updates – nine if you count last year's hardware revision. The pace isn't changing and we're still committed to regular updates for Glass – even if they're not monthly anymore, because bigger updates just take more time. In fact, we're working to move Glass from Ice Cream Sandwich to Kit Kat to make the Glass experience smoother and just plain better. This change will make it easier for us to bring you more useful updates and it's something we're really excited about. Developers, we know you're gonna be excited, too. But it's also something that we don't want to send to you all until it's just right. (We did flip on sharing to Google+ communities, which was originally slated for this month's updates – and something we know you've been waiting for.)

Now off we go to bake a little more awesome into the sauce."-Message to Google Glass Explorers from the Community Forum
source:
GlassCommunityForum
via
AndroidPolice
,
Engadget