Kinivo BTH240 Bluetooth Headphones hands-on
4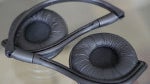 Differentiating itself from most of the crop that we find in the Bluetooth headphones camp, the
Kinivo BTH240 Bluetooth Headphones
is able to do just that with its
foldable design
. However, we really can't commend it much in other aspects to make it a tremendous offering over other things.
Like we said, it's the folding nature of the Kinivo BTH240 that makes it stand apart – enabling us to easily put it in our pockets, without it taking much space. And that's pretty much it for anything remotely pleasant with them! For starters, the
overall design is rather bland
, as it utilizes a very familiar wrap around style. In addition to that, it simply feels
poorly constructed
, to the point that the entire thing feels, you know, dirt cheap!
Sure, there's some cushioning around each ear cup, but they're so lacking in fluff that it tends to feel a bit stiff as they sit over our ear. Furthermore, the entire thing feels just a smidgen tight around our head. Well, it's nice to see that we're given a bunch of media controls that are all located on the right ear cup – these consist of volume up, volume down, track forward, track reverse, and a multi-function middle button. Pairing it with a Samsung Galaxy S4, we have to say that audio quality is rather
flat
, as it lacks the robustness to give it some much-needed pop.
In the end, the saving grace for the Kinivo BTH240 is the super low price of
$29.99
that's attached to it. Maybe it's something you'd give a friend you don't see too often, or maybe one you don't like?
source:
Amazon