Android's 2010 revenue revealed, lets us estimate current numbers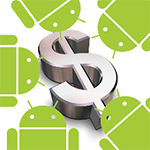 Veeeery eeeenteresting. Up until today the judge presiding over the
Oracle v. Google
trial has largely prevented Oracle from throwing around monetization numbers, indicating that it could prejudice the jury if and when they move on to the damages portion of the trial. But on cross examination of Google's witnesses Oracle was able to introduce several
new pieces of evidence
, and one of them includes Android's estimated revenue for 2010.
According to a presentation that Andy Rubin gave in July 2010 (when Android had 20 million activated devices) they expected the number to double by year's end to 40 million devices, and for annual revenue to reach $278.1 million. At the time app sales were dramatically behind ad revenue, only accounting for $3.8 million vs. $158.9 million from ads served to Android users.
It was also revealed that at the time (2010) Google was indeed making more money from iPhone ads then they were from Android has a whole - they were on a "run-rate" of $281 million from iPhone ads vs $120 for Android at the time. The charts also show that Google was making a greater return from each Android device sold, so we expect that Google started making more money from Android some time in early 2011, as the number of Android devices sold sailed past the iPhone.
They also provided projections for Android revenue up through 2013…and importantly they also predicted how many Android devices they expected to ship each of those years, and here it's clear that Google must be thrilled, as they predicted that they would have 220 million Android devices activated
by the end of 2013
.
They predicted the same year they would generate $1.3 billion in revenues for Android
. Since Google had already activated
250 million devices
by this January, Android should have generated something close to that number last year if their revenue per device stayed the same . On the down side, Google's hopes for revenue from Google Music turned out to be far too high, in part because they shipped the product
over a year behind schedule
.
While lawsuits are somewhat odious in and of themselves, they can be a great source of information! Oracle has revealed to us that Android is now big business for Google; it's probably already a billion dollar a year revenue source (and certainly on pace to eclipse that for 2012).
Google is almost certainly making more money from Android than from iPhone now
(and probably have been for a year or so). The number of Android devices shipped clearly exceeded Google's expectations from 2010. On the other hand, tablet penetration has obviously lagged, and revenue from music and video is far behind schedule.
We'll be sure to share any other nuggets that drop in the days ahead.
source:
The Verge