Kickstar listed Pictar turns your iPhone into a DSLR camera
21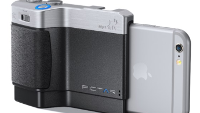 There is a new camera grip from miggo that turns your iPhone into a Digital SLR camera. The manufacturer is raising money for the product, called the Pictar, through Kickstarter. So far, the company has raised $38,148 of crowd-sourced funds and has 36 days left to hit the target of $100,000.
Some of the features include the
Shutter Release
. A full press down will instantly snap your picture, while a half press allows the camera to focus. This sounds just like the controls on a dedicated DSLR camera. With the
Zoom Ring
, you can use one hand to zoom in and out by turning the ring. Clicking on the Zoom Ring lets you switch between your iPhone's back and front-facing cameras. In the right corner of the Pictar is the
Exposure Compensation
wheel, which allows you to change the brightness of a picture even before you take the shot.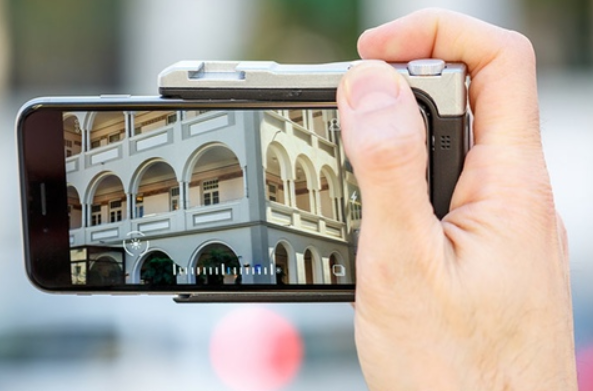 The Pictar turns your iPhone into a DSLR camera
With the
Smart Wheel
, you can control the settings for seven pre-set basic modes, and three advanced settings. The basic settings include Auto mode, Portrait mode, Landscape mode, Sport mode, Snow mode, Selfie mode and Video mode. The advanced settings include Shutter priority, ISO priority and Manual controls. The
Virtual Wheel
uses the photographer's thumb to control different modes like Flash mode, Shutter speed, ISO and more. The
Ergonomic Grip
is made from material that allows you to get a good hold on the camera/phone.
The classic Pictar kit comes with a wrist band while the Pictar-Plus includes a neck strap as well. There is a 1/4-inch tripod available for the Pictar, and the iOS app communicates with the camera through the use of high-frequency dual tone sound control. The Pictar will work with the
Apple iPhone 4
,
Apple iPhone 4s
,
Apple iPhone 5
,
Apple iPhone 5c
,
Apple iPhone 5s
,
Apple iPhone 6
,
Apple iPhone 6s
and the
Apple iPhone SE
. It will not work with the
Apple iPhone 6 Plus
or the
Apple iPhone 6s Plus
.
For $90, you can reserve the Classic Kit which includes the Pictar, Wrist Strap, Padded Pouch and the app. $120 buys you the Premium Kit which comes with everything in the Classic, but adds a Neck Strap and the SPLAT flexible tripod. You can buy two Classic Kits for $160 and save 30% from the future retail price. If you buy two Premium Kits for $200, you are saving 40% from the future retail price.
If funded, estimated delivery for early backers of the project will be this November. meanwhile, you can learn more about the Pictar by clicking on the video below.
source:
Kickstarter
via
BGR