Keyboard issues happening on the Palm Pre Plus?
This article contains unofficial information.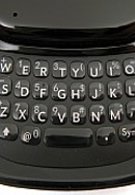 Everything on the Palm Pre Plus seemed to be better that the original one that was launched with Sprint back last summer – from the hardware under the hood to its slightly more clicky keyboard; everything looked good. Now there are some reports about some Palm Pre Plus owners having an eclectic mix of issues surrounding its QWERTY keyboard. Based on a survey gathered from PreCentral, it shows that an alarming amount of keyboard related problems occurring on the Palm Pre – in fact, it's mostly isolated to the one being offered by Verizon. Palm definitely made some tweaks to it after probably hearing all the feedback surrounding the original one launched by Sprint. Some of the problems include letters being entered twice, some letter not being entered, and some input lag when typing. The survey found that 23 percent of respondents indicated "No typing problems" while a staggering 42 percent are experiencing problems related to all three of the issues we've noted above already. Even though there are owners that are having these technical difficulties, Palm hasn't announced anything regarding the matter – so it's anyone's guess if it's deemed as a defect or not.
Palm Pre Plus Specifications
|
Review
source:
PreCentral
via
everythingpre