Kanye West announced a gorgeous video game about his mother ascending to Heaven
23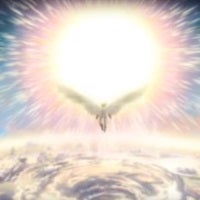 Kanye West is busy. He's so busy, it's hard to fathom how the man finds time to dedicate to worshipping his larger-than-life persona. Haters may argue that it's actually the other way around – that he's too busy loving himself to produce anything with integrity. But the latest ruckus around the rap star surely serves to prove them wrong.
Between introducing his brand new album, The Life of Pablo, and the next collection in his Yeezy clothing line – at the same time! – West also gave the world an early peak at an upcoming video game. And it's unlike anything your presumptions might lead you to think. Called "Only One: The Game" after the single (ft. Paul McCartney of The Beatles) of the same name, the game is about Kanye's deceased mother riding a pegasus among a flock of winged angels in Heaven. It looks positively gorgeous and seems like a genuine, inspired tribute to the woman that raised him.
a genuine, inspired tribute.
West didn't reveal the release date and platforms for "Only One: The Game", but he was courteous enough to say that it's going to be out "soon". He also explained the gameplay concept as follows –
"The idea is, it's my mother going through the gates of heaven and you have to bring her to the highest gates of heaven by holding her to the light."
This definitely isn't your plain ol' Flappy Bird clone or hackneyed "superstar game" moneygrab, although we do expect the game to be monetized in some way. After all, Kanye has to keep stacking those millions while Jesus asks him
"what's up, Yeezus?"
We don't know for sure whether "Only One: The Game" will hit app stores when it launches, but based on what we've seen in the footage below, the game looks like something destined to grace smartphone screens. Don't keep us waiting too long, Mr. West!