Kantar says Samsung Galaxy S7, Galaxy S7 edge to lead U.S. market in sales this quarter
12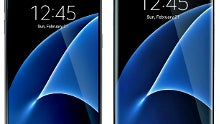 The
Samsung Galaxy S7
and
Samsung Galaxy S7 edge
captured 5.8% of the U.S. smartphone market in the first quarter, even though the pair wasn't released until March 11th. That made the Galaxy S7 the fifth best selling phone in the market despite the limited time period that it was available for. Compared to the
Samsung Galaxy S6
, that is a marked improvement. Last generation's model was the 10th best selling phone in the states, running up a 3.2% market share during the quarter it was released in.
Samsung, carriers and retailers are spending big bucks promoting the phone and offering deals to buyers. According to Kantar Mobile Analyst Lauren Guenveur, the pair might be the most heavily promoted phones of all time. Those who ordered the Galaxy S7 or Galaxy S7 edge before March 18th received a free Samsung Gear VR (valued at $99.99) and six free VR games. AT&T and T-Mobile both had BOGO deals going at one time.
There were plenty of other promos available, and this was important because 40% of those who bought the Galaxy S7 or Galaxy S7 edge made the purchase partly because of an exclusive deal or offer. 12.2% decided to buy the Galaxy S7 or Galaxy S7 edge because of a deal that gave them a free or discounted product. 11% were influenced by a trade-in offer, and 10.3% by a free or discounted accessory offer.
The main attraction, according to those who purchased the Galaxy S7 or Galaxy S7 edge, was the battery life of the phones. The battery was cited by 53.5% of those who purchased one of the two models, as their reason for buying one of them. 51% of Galaxy S7 and Galaxy S7 edge buyers said that the camera quality was important in helping them make the decision to go with one of Sammy's new flagship models, and 36.5% said that they purchased one of the two Galaxy S7 phones because of the handsets' storage capacity.
"The Galaxy S7 and S7 Edge appears to be one of the most heavily promoted phones ever. If you ordered an S7 before March 18th, you got a Gear VR and six VR games for free. AT&T and T-Mobile offered 'buy one, get one free' deals for a time. Best Buy included a Gear VR and a 64 GB SIM card with the purchase of an S7. For purchasers of the S7 at Costco this month, they'll get a 32-inch Samsung HD TV. And that's barely scraping the surface of the promotions and trade-ins available for this device."-Lauren Guenveur, analyst, Kantar Mobile
Guenveur expects the Galaxy S7 to be the top selling phone in the U.S. during the second quarter, something that its predecessor was unable to do.
source:
Kantar
via
FierceWireless