Kantar: Apple's iPhone is losing market share in the US, Europe, and China
89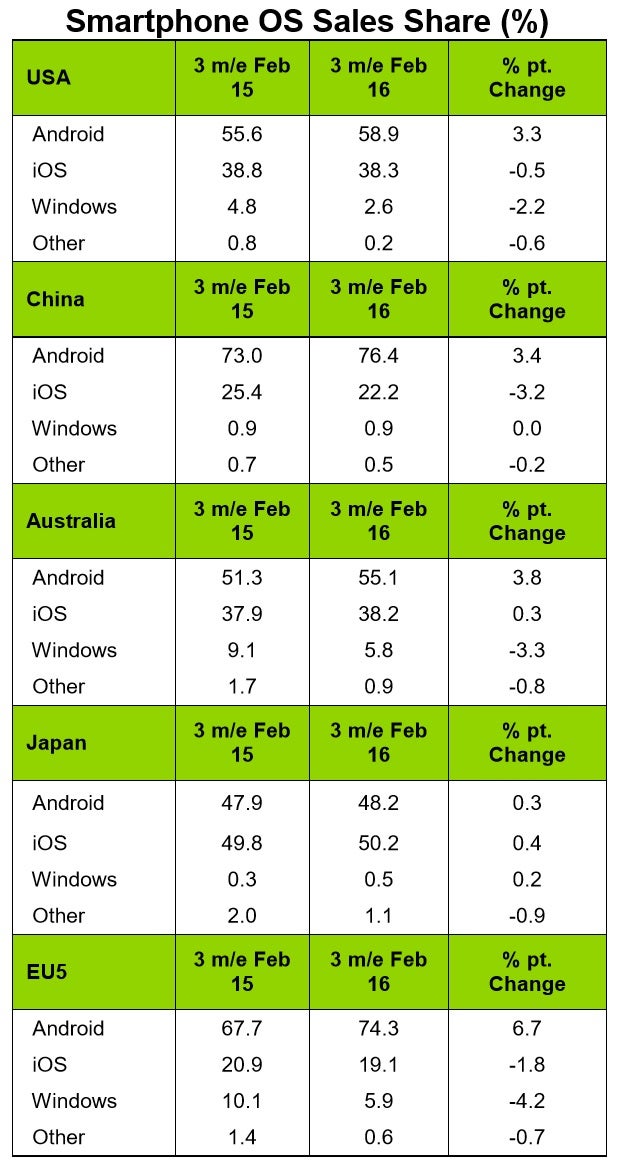 According to the latest report from market research firm Kantar, Apple's iOS is losing market share in Android's favour in certain segments of the global smartphone market, such as the US, Europe, and China. Although the losses are not significant, they are notable and they serve to prove that Apple is having trouble maintaining the expansion rate it has enjoyed with the iPhone 6, its first smartphone to adopt a larger form factor.
Kantar's report is based on data gathered during the three months ending February 2016. All changes are reported to the three-month period ending in February 2015.
The biggest market share losses for iOS occurred in China, where the iPhone maker is estimated to have lost 3.2 market share points. In the same market, Android went up 3.4 points to 76.4%. Kantar estimates that this is the first time since August 2014 when Apple loses market share in China's smartphone market.
Looking forward, however, the more affordable
Apple iPhone SE
could help the company turn things around in China, a market where premium devices only account for a small segment of the smartphone market. According to some estimates, more than
3.4 million customers have pre-ordered the phone in China
.
On its home turf, the iPhone lost 0.5 points year-over-year and is estimated to have accounted for 38.3 of all smartphone sales in the US during the time period. Windows lost 2.2 points while Google's Android gained 3.3 points and accounts for 58.9% of US smartphone sales.
In Europe's five largest markets (Germany, the UK, France, Italy, and Spain), the iPhone series lost 1.8 market share points. In these markets, Windows lost 4.2 points while Android gained an impressive 6.7 points.
In summary, Kantar's report shows that Android is gaining market share at the expense of Apple's iOS and Microsoft's Windows Phone. For more details, make sure to check out the source link below.