KDDI AQUOS Pad SHT21 is the first tablet with IGZO screen: promises up to 2.5x better battery life
13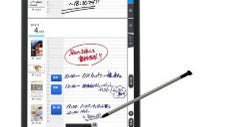 IGZO screens
are kind of a big deal. It's extremely battery-savvy - in fact, it promises to draw two thirds less power than LCD - but it's also allows for more transistor and even higher resolutions. And now we have the first tablet with it, the KDDI AQUOS Pad SHT21, coming to Japan in December with its 7-inch display.
First, the resolution. It's not all that steller - you have 1280 x 800 pixels, the same as on the Nexus 7, but what's most notable is the promise of 2.5 times increase in battery life. That's nothing like the 6.1-inch prototype shown around at IFA with a stunning 2,560 x 1,600-pixel resolution, but the focus here is on battery savings.
What is IGZO, though? An abbreviation from indium gallium zinc oxide, the material used in LCD rather than standard amorphous silicon, it is a semiconductor material that allows electrons to move faster, so that transistors could be built smaller. Most importantly, the easier flow of electrons means you have to refresh a picture less often, and that's where the battery savings come from. The backlight would often draw less than half the power of a standard LCD screen. Additionally, there is much less interference with other hardware.
Here is a quick rundown of the rest of the specs, that are pretty standard. You have an 8-megapixel rear camera and VGA fron one. The processor is Qualcomm's MSM8960 1.5GHz dual-core one working along 1GB of RAM to power Android 4.0 ICS. There is 16GB of internal storage, expandable via microSD.
The new KDDI tablet comes with different modes including one targeted at best battery life results. It weighs 280 grams, and overall looks pretty nice. We can't wait to see actual battery tests, but if those numbers turn out to be true, the IGZO screens could be a huge leap for tablet longevity. Could it land on the
iPad mini
next week? Let's stay tuned to find out.
source:
SlashGear