Yahoo's new group chat app is called "Squirrel"
1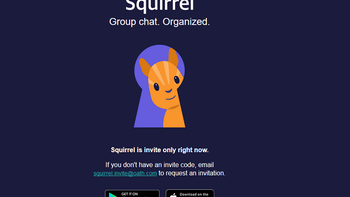 Yahoo threw its new group chat app "Squirrel" into the ring yesterday by listing it in the Google Play Store and the Apple App Store. You can organize different groups to chat with, and create different rooms for various topics. You can even create secret rooms that only certain friends and family members know about. And because you must invite your friends and family members via a link to join your members list, you don't have to share any information with Yahoo about your contacts.
Squirrel includes several features such as:
Rooms: Create separate rooms for specific people or topics. Chat in the main room for group-wide announcements and banter.
Mute: Turn off notifications in rooms that are a snore.
Secret rooms: Use secret rooms for private chats with those in the know.
Reactions: Make inside jokes official. Create your own one-tap reactions for the group.
Blasts: Make sure everyone in your group sees important messages.
Attachments: Share photos, documents, or links. Find them later easily all in one place.
Activity view: Never miss an important message. Know when you are mentioned, all in one view.
The app is also available by invite only. If you don't have an invite code, request one by sending an email to squirrel.invite@oath.com. Or, click on the appropriate link: (iOS|Android).

source: Squirrel