Jury deliberations underway in Apple v. Samsung trial
36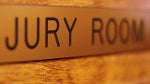 "This case has huge implications. It could result in injunctions against both companies."-Mark P. McKenna, University of Notre Dame Law Professor
The jury in the Apple v. Samsung patent trial
has begun deliberations after listening to 3 weeks of testimony
. The 7 men and 2 women are charged with tryng to decide whether Apple proved "by a preponderance of the evidence" that Samsung violated the Cupertino based firm's patents. The 9 also have to make a decision on Samsung's counter-claim, if Samsung was able to show that Apple infringed upon the Korean based firm's patents.
During closing arguments on Tuesday, Apple's chief attorney Harold McElhinny said that after the launch of the Apple iPhone, Samsung was having a "crisis of design" and illegally copied the device to cash in on its success. Samsung said it was merely giving consumers what they wanted, smartphones with big screens. Samsung says that not only did they not infringe on Apple's patents, but those patents were really developed by other companies.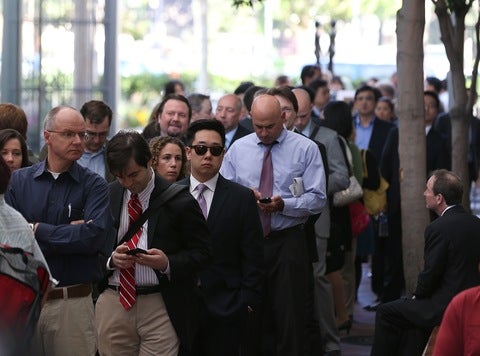 People line up to view the Apple v. Samsung trial
Judge Lucy Koh read 109 pages of instructions to the jury in a reading
that took 2 hours to complete
. Now, the jury will have to go through a 20 page form and check off its decision on each claim. Even professionals in the business are astounded with the complexity involved. You would think that Karen Lisko, who runs a jury consulting company specializing in patent trials, would be used to the form handed to the jury to mark off. But Lisko said, "
The verdict form is crazy. It's incredibly complicated
." But this case has been complicated from the start with both sides trying to grab a little edge. Attorneys for both sides have been marking down points of contention that might be used in a future appeal.
Besides the hefty jury verdict forms, in the jury room is a number of smartphones and tablets for the jury to use during deliberations. As we told you on Tuesday, Judge Koh has ordered the members of the jury to refrain from inserting a SIM card in the models.
Nor are they allowed to update any device or load apps on them
as the idea is to keep their appearance the same so the jury can determine if patents were infringed upon.
Considering what is at stake, experts expect the jury to take some time to get the verdict right.
source:
AP
Recommended Stories