June 8th launch date for the HTC Sensation 4G?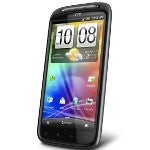 According to a sponsored link, the HTC Sensation 4G will launch on June 8th. The high-end device is expected to be offered by T-Mobile, as we
reported
. With a 1.2GHz dual-core, third generation Snapdragon processor powering the show, the Sensation promises to be, well, a sensation. The screen is 4.3 inches with qHD resolution and around back is an 8MP camera with dual LED flash and the new Sense 3.0 allows apps to be opened even while the screen is locked. The phone can capture video at HD 1080p at 30fps. Also on board is the new HTC Watch which lets you view movies and television shows from your handset. Don't forget to throw in the HSPA+ connectivity and it all adds up to a device worthy of its name.
While this all sounds great, the news today is that some of those who typed in the HTC Sensation name into Google's search engine received a sponsored link that read, "HTC Sensation 4G-On 6/8-Complete with HTC Watch and HTC Sense". Right off the bat, one could imagine that the 6/8 date represents when the phone will be launched by T-Mobile. On the other hand, it could be a complete mistake, a placeholder or even a typo. If the HTC Sensation is pegged to be your next phone, you're certainly hoping that 6/8 means June 8th and nothing else.
Unable to find the sponsored link by continually searching for HTC Sensation on Google? Just understand that these sponsored links rotate and who knows, by now it might have even been removed by HTC. As you see from the image below, the 6/8 date did indeed come up in connection with the HTC Sensation 4G which means if it is correct, you had better start saving those pennies now.
source:
AndroidCentral