Jump start your car battery & charge your phones with JUMPR
7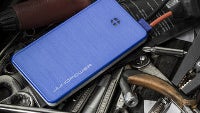 It happens in some of the most inopportune times. Far away from home, and definitely nowhere close to a repair shop, dead car batteries mean can be a scary thing to endure – more so considering the helplessness we can feel from the experience. Sure, you can call road side assistance or something comparable, but that means more sitting around and waiting. Well folks, if you happen to have the JUMPR, you'll be able to fix your problem in a jiffy.
As its name so happily implies, JUMPR is a sleek and portable 6,000 mAh external battery capable of bringing back your car to life. Specifically, it can be used to jumpstart that dead car battery – giving drivers a backup solution in case they ever find themselves in that unfortunate situation. Relying on one of its USB ports, which deliver 12 volts of power at 300 amps, it's enough to certainly jump start 4 and 6-cylinder car engines.
At the same time, JunoPower's JUMPR can also charge your mobile devices on the go, since it's a portable battery of course. Armed with a 5V 2.1A USB port, it means that smartphones, cameras, and tablets can all be juiced on the go as well. Heck, the JUMPR even happens to pack along a built-in LED flash light too!
Now, in order to jump start a car battery, users will need to use the unit's proprietary jumper cables, which connect to the JUMPR's 12V USB port. From there, all you'll need to do is connect the cables to the car battery and bam! Life is brought back to that dead car battery. Expected to ship sometime between May and June, JUMPR will carry a retail price of $89.99. However, if you happen to snap a pre-order for it before May 1st, you'll be able to purchase it at the discounted price of $69.99
through JunoPower's web site
.
source: JunoPower

JUMPR is the World's Smallest Battery Pack to Jumpstart a Car and Charge your Phone On the Go

Innovative 6,000 mAh battery with built-in flashlight pushes out up to 300 Amps at peak power to guarantee that you will never be lost in the dark with a dead phone or car battery again

Burlingame, CA – April 23, 2014 – JunoPower is adding a new twist on portable power by solving two common problems in one convenient package. The JUMPR is a sleek, lightweight external battery that houses an impressive 6,000 Milliamps capable of jumping a completely dead car battery in minutes. The multi-functional battery also features a 5V 2.1A output able to charge power hungry devices such as smart phones, cameras, and tablets. Users will never again have to worry about being stranding with a dead phone or car battery.

"We all know what it feels like to get caught with a dead car battery; you could be stuck waiting around for hours for a tow truck or friend to arrive. The JUMPR is a simple to use solution that gets you back on the road in minutes" says JunoPower CEO, Dennis Lee. "Travelers no longer need to worry about lugging around a 10-20 pound battery jumper, or tirelessly searching for a wall outlet if their phone dies on-the-go. The JUMPR solves all your power needs in a tiny 5.5" x 3" x .6" frame that weighs only 7 ounces."

The JUMPR is ideal for anyone who likes to have full use of their mobile devices without being tethered to a wall outlet. The must have accessory keeps phones or tablets powered up while users enjoy the outdoors, rock out at a music festival, or explore a new city. The compact device yet packs a 12 Volt 150-300 Amp output as well as a 5V 2.1A USB output. The handy device even features a built in LED flashlight in case you need to work in the dark. With the JUMPR, travelers and adventures can take off into the unknown with complete peace of mind.

The JUMPR will retail for $89.99 MSRP; but from now until May 1, 2014 users will be able to pre-order the battery for $69.99 at JunoPower.com. For additional information or distribution opportunities please visit www.JunoPower.com or email sales@junopower.com

About Juno Power

In conjunction with Juno Labs, a US design firm; JunoPower designs, develops, manufactures, and markets portable mobile devices and accessories for both Apple and Android devices alike. Our goal is to create the best possible products in both quality and design. JunoPower creates innovative designs with competitive pricing. In doing what we have been doing best for over a decade, we strive to create the most user friendly, reliable solutions for everyday power problems.