Judge scolds Apple, limits scope of touch-screen patent in Motorola lawsuit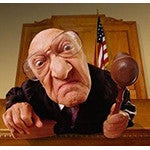 In the U.S., the ongoing patent wars between Apple and Motorola are unfolding in a Chicago-area courtroom. Apple has lost two rulings in the last 24 hours, and in the process was
once again
scolded by the presiding judge.
The first ruling, an attempt to excuse a witness Apple apparently does not want to testify, was denied; the ruling in and of itself is probably not a major blow to Apple's case (unless the witness has some major exculpatory bombshell he's waiting to testify to). But Judge Richard Posner, a judge with a distinguished and well-known career, was not amused that it was Apple's second attempt in three days to excuse the witness, and took Apple to task for it saying:
I deny the second half of Apple's motion (seeking prohibition of the deposition) as frivolous and the first half (seeking substitution) as untimely. I've had my fill of frivolous filings by Apple. The next such motion, and I shall forbid it to file any motions without first moving for leave to file.
What the judge is threatening to do is make Apple ask for permission (in a written legal brief) before it makes any sort of
motion
. While not the end of the world (Google and Oracle have had to deal with this throughout their trial) forcing Apple to do so without imposing that restriction on Motorola would at the least create a lot more work for Apple's lawyers. Since this is the
second time
in a month that they have been lectured by Judge Posner, Apple's counsel may want to back off their overly aggressive stance.
The other ruling limits the scope of
Apple's '949 patent
on touchscreen heuristics, and will have a more direct impact on the outcome of the trial. Apple contended that a "finger swipe" and a touch are interchangeable from the point of view of a mobile device, so their patent should cover essentially all forms of multi-touch. Posner found that consumer readily identify "tapping" and "swiping" as different activities, and so the patent cannot treat the two as the same type of input. That doesn't mean that Apple can't win on the patent, but it does mean that Apple won't get a sweeping victory from this particular patent.
The judge also ruled that Motorola cannot be held accountable for user-installed applications, such as Amazon's Kindle App, if they violate Apple patents. The judge did hold that on devices where the app was preinstalled that Motorola could be held at least partially responsible for infringement.
The back-to-back cases between Apple and Motorola are scheduled to go to trial this summer, so baring delay we should see how this works out in the not too distant future.
sources:
Bloomberg
,
FOSS Patents