T-Mobile's Legere named best U.S. wireless CEO, fourth best overall
9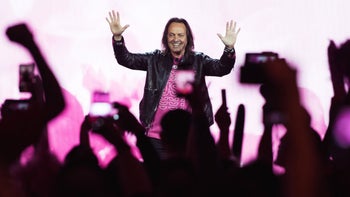 We've often praised T-Mobile CEO John Legere for leading the carrier's amazing turnaround that has made it the fastest growing and most innovative of the four major U.S. carriers.
Today, T-Mobile announced
that the executive has received some recognition from the Glassdoor website. Based on an online survey filled out by former and current employees, Glassdoor named Legere the top CEO in the U.S. wireless industry for the fifth consecutive year. He received a 99% approval rating from T-Mobile employees.
Part of Legere's charm is that he flaunts the conventional rules about how a CEO should look, dress and act. He wears his hair long and instead of a suit and tie, Legere is usually spotted in a magenta T-Mobile t-shirt and jacket. And he has no problem attacking the competition, even using choice four-letter words if the situation calls for it. The executive, named T-Mobile CEO in September 2012, appears to be passionate about the industry and his employees appear to feel the same way about him.
While Legere finished first among wireless CEO's, he ended up fourth in the overall ratings. Other tech names on that list include Adobe's Shantanu Narayen (5th-98% approval rating), Microsoft's Satya Nadella (6th-98%), Nvidia's Jen-Hsun Huang (18th-96%), Google's Sundar Pichai (46th-94%), Facebook's Mark Zuckerberg (55th-94%) and Apple's Tim Cook (69th-92%)
"I'm so motivated by how hard Team Magenta works to take care of customers and make T-Mobile an amazing company – they inspire me to try to be a better CEO every single day! I love seeing all the feedback from our employees in forums like Glassdoor. It keeps me tuned into what's working and where we can improve!"-John Legere, CEO, T-Mobile