John Legere makes his 2015 predictions for wireless; CEO predicts that T-Mobile will pass Sprint
19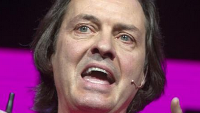 T-Mobile CEO John Legere has made a list of his wireless predictions for 2015. The executive expects 67% of new phones to be sold without a subsidy in 2015, up from 41% sold in that manner this year. T-Mobile was ahead of the field on that change. But Legere says that other improvements instituted by T-Mobile aren't going to be as widely put into play by the other carriers. He still expects overages to be paid by many customers of other carriers, along with ETFs.
Another prediction made by T-Mobile's CEO for 2015, is that his network will go head-to-head with Verizon almost everywhere in the country, and win when it comes to measuring network speed. While T-Mobile covers 264 million people with its LTE at present compared to the 303 million covered by Big Red, Legere says that T-Mobile's LTE coverage will cover 300 million people this year. 150 metro areas will be covered by Wideband LTE and 700MHz spectrum will cover 350 such locations. The latter offers signals with better indoor penetration, and travels longer distances. And T-Mobile's
LTE service has already been called the fastest in the states
.
Legere expects AT&T to offer a "weak" version of T-Mobile's Data Stash, which allows T-Mobile subscribers to
roll unused data minutes over to the next month
.
He also predicts that AT&T will collect more money from customers for data overages than any other carrier. As for Sprint, Legere sees the mobile operator "
throwing out campaigns, offers and promotions – anything to see if it sticks
." He says that Sprint will eventually discover that it can't slash prices, add customers, and have enough scratch left to upgrade the network. As for Verizon, the executive expects to see more "
BS promos
" from the nation's largest carrier, including coverage maps.
For 2015, the T-Mobile CEO says that wearables will go mainstream, led by the Apple Watch. He also expects a big year for phablets. And yes, John Legere says that in 2015, T-Mobile will pass Sprint to become the third largest carrier in the U.S. This was something that
Legere had earlier expected to take place during Thanksgiving
. But it should take place in 2015. "
It's a done deal
," the CEO promises.
source:
T-Mobile
via
AndroidandMe