Jobs biopic release is delayed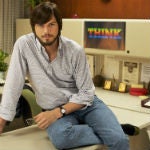 If you happen to be someone who is looking forward to the Steve Jobs biopic starring Ashton Kutcher, it looks like you're going to have to wait a bit longer. The movie, named simply Jobs, had been aiming at an April 19th release, but a new report says that the movie's release is going to be delayed. But, there is no word yet on when the new release date would be.
The report comes from Deadline, and it doesn't give a huge amount of detail as to why the delay has happened. The only info given is that the film company, Five Star Films, and the distribution company, Open Road, had wanted to release in April, because that would mark the the 37th anniversary of Jobs founding Apple. But, it has been decided that an April release date won't give enough time to market the film properly.