Jimmy Kimmel pulls the same iPhone prank, but this time with an iPad mini
42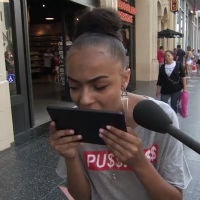 We've already seen the same jokes around the new iPhone 5s and iPhone 5c announcements recycled by the amateur YouTube crews, so why wouldn't we expect the same thing from the professionals? Jimmy Kimmel has basically run this prank twice already, but this time around he cranked it up a bit by telling people that the iPad mini was actually the newly announced iPhone 5s.
The first time around, Jimmy's team told people that the iPhone 4S was the iPhone 5, and as you would expect, people spit back the usual Apple buzzwords like "thinner", "lighter", "faster". Then, the team pulled the same prank, but told people that the
iPod Touch was the iPad mini
, with similar results.
This time around, Kimmels team goes even deeper into the absurdity by telling people that the iPad mini was the newly announced iPhone 5s, and somehow still got people to claim that the device was "smaller", "thinner", and "lighter" than the last iPhone. They even got one girl to lick the screen and claim that she could taste chocolate.
If these people really are random people off of the street, and not paid actors, we can understand not being aware of what would set apart the new iPhone from the last, but to believe that an iPad mini is an iPhone takes a special kind of ignorance about technology.